 Arguments for and against the bowler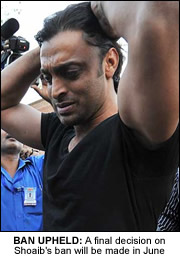 SHOAIB Akhtar – to some a flawed cricketing genius and to others a menace with a lack of discipline.
The player's five-year ban imposed by the Pakistan Cricket Board for violating the player's code of conduct left some shaking their heads while others nodded in agreement.
Akhtar may be the first to admit his time with the national team hasn't been that of fairytales – but the decision by a three-man panel set up in the wake of Akhtar's appeal against the ban upheld the PCB's decision.
Akhtar, fearing the worst has offered a heartfelt apology for his actions 24 hours before the panel made their decision.
In a statement read out by his lawyer, Akhtar said: "I would like to apologise from the bottom of my heart for any grief or embarrassment that may have been caused to the nation, particularly to the PCB Chairman Dr Nasim Ashraf. I have resolved to alter my habits to refrain from such incidents in future and I will obey the PCB rules and regulations."
But it seems Akhtar's apology came a little too late. With the IPL refusing to allow him to play for the Kolkata Knight Riders, Akhtar's future looks bleak.
But was his ban justified?
Was Shoaib's ban Justified?
YES
"I don't think the board has done anything wrong by banning Shoaib Akhtar. I am sure the PCB has taken his past record into consideration before banning him … It's not right on Shoaib's part to approach the media."- Inzamam-ul-Haq
"Shoaib shot himself in the foot and there's nobody else to blame. Something like this was waiting to happen and there's a very clear sequence to Shoaib's self-destruction." – Ramiz Raja
"I can tell you with all honesty that there was no ulterior motive involved in the ban. It was a situation where we had to decide how much longer could we allow Shoaib Akhtar to keep on violating discipline and work ethic."- Muneer Hafeez, the PCB's disciplinary committee chairman
"[We] felt his presence in the field was damaging to the Pakistan team, for Pakistan players and for the image of Pakistan cricket" – Nasim Ashraf, Chief of the Pakistan Cricket Board
Was Shoaib's ban Justified?
NO
 "Tell me how many players in world cricket have been banned for five years on discipline charges? Previous incidents of indiscipline should have been dealt with at the time instead of being allowed to accumulate." – Imran Khan
"Personally, I wouldn't have banned him. I'd have made him earn his international place back by playing domestic cricket."- Pakistan coach Geoff Lawson
"Disappointing is no word to describe Akhtar's ban, I would call it pathetic and request the new political government to sack the Nasim Ashraf-led PCB." – Former Pakistan cricketer Safraz Nawaz
"I feel sorry for Shoaib, but it is also true he has been involved in many disciplinary cases. However, I would like to add here that it is the result of the PCB's leniency towards Shoaib's past blunders. His [latest] offence is not that grave, as several Pakistan Test cricketers in the past have done this type of wrong act repeatedly and got away with it." – Former Pakistan captain Javed Miandad