 Bollywood's Heroes and Villains in 2007
What an eventful 2007 we've had in the glamorous world of Bollywood! From Ash and Abhi's wedding, to Kareena and Shahid's break-up – it was all go in sunny Mumbai this year. To celebrate the highs, lows, and plain ugly events of the year, we bring you the Desi Massala 2007 Awards. Find out who bagged our villain of the year, who went from Hero to Zero, and which star topped the awards as the Star of the Year…
Star of the Year
WINNER: Move over SRK, it's Hrithik Roshan!
Who's the biggest star of Bollywood? Shah Rukh Khan? Aamir Khan? Try Hrithik Roshan. Yes, he may be able to bust a million moves in a second but 2007 was officially Hrithik's year. In June he became Bollywood's highest paid actor after signing a 3-film deal with entertainment giants Adlabs for a whopping Rs. 35 crore.
Such was Hrithik's clout as a bankable star he had clauses included in his contract which stated that he could select the script which he felt suited him best, as well as fellow cast members and a director.
Just months later he was signed as a face of Sony who described him as having more influence in the Asian entertainment world than SRK! Well done, Hrithik!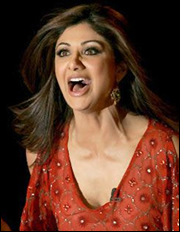 Story of the Year
WINNER: Shilpa Shetty, Queen of BB
She came, she conquered and she put Jade Goody in her place…yes, Shilpa Shetty we salute you (just for now!!!). It was supposed to be a show that nobody really cared about, but come the end of Celebrity Big Brother more than 45,000 of you had complained about the torrid racist (yes it was racist, for all of you who shamefully tried to defend Enoch Powell's horrid offspring) abuse directed at the Bollywood star from three supposedly Brit celebrities. The show made headline news across the world with even Gordon Brown having to defend the great British nation during a trip to India. While Danielle Lloyd, Jo O'Meara and Jade Goody were left shaking in their boots when exiting the house, our Shilpa was crowned the Queen of Big Brother. What a fabulous January we all had!
Bash of the Year
WINNER: Ash & Abhi get hitched!
There could only be one winner in this category. 2007 was the year that two of the biggest stars of Bollywood finally ended all speculation and tied the knot – yes the showbiz bash of the year award goes to Abhi and Ash for their truly remarkable wedding. While Salman and Vivek cried into their pints of lassi, Ash finally found Mr Right.
Box Office King of the Year
WINNER: Akshay Kumar, King of the Big Screen
When you think of Bollywood's biggest male stars, we tend to overlook Akshay Kumar. Why? Well I'm not sure. Maybe it's because Mr Shah Rukh Khan tends to be everywhere these days or maybe because Mr Salman Khan can't stop getting himself into trouble. But when it came down to box office clout, Akshay Kumar left his rivals in the shade. From Namastey London, to Heyy Babyy, to Bhool Bhulaiyaa and finally Welcome, Akshay proved 2007 was a year in which he was Bollywood's most bankable star.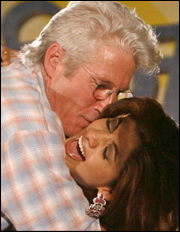 Bollywood's Most Absurd Event of the Year
WINNER: No Tongues please, this is India! Richard Gere & Shilpa Shetty shock the nation
They took to the streets and burnt effigies. Some protestors even called for a criminal conviction. No, Jade Goody didn't decide to set up home in India. It was all over a crazy
5 second show of affection between Hollywood stalwart Richard Gere and Shilpa Shetty during an Aids awareness rally in Mumbai. When Gere took the newly-crowned CBB winner in his arms and planted a kiss on her cheek little did he know just how big of a mistake he'd made. Astonishingly hundreds took to the streets in protest, burning whatever they could find, demanding the two be hauled up in court to answer indecency charges. Poor Gere scurried out of the country quicker than Steve McClaren out of FA headquarters while Shilpa was left to try and rebuild her reputation in a country which just months earlier had championed her during her CBB victory.
UK/Bollywood Event of the Year
WINNER: By 'eck love! The IIFA's land in Sheffield
We had the continuation of the Bollywood invasion at Madame Tussauds, Shah Rukh Khan at Warwick Castle and even Dino Moreo on Birmingham's Coventry Road, but the biggest Bollywood event in the UK by far was the IIFA extravaganza in Sheffield.
While the cream of the Bollywood converged on the small northern city made famous by the Full Monty, thousands of you packed into the Hallam FM Arena to catch a glimpse of your favourite star. The three-day bonanza raked in more than £10 million for the economy making it one of the most profitable events for the region.
Bollywood FLOP of the Year
WINNER: 'Sholay' turns ugly with Ram Gopal Varma Ki Aag
Watching the film it would have been hard to comprehend that RGV Ki Aag was supposed to have been a remake of the Bollywood classic 'Sholay'. Fraught with difficulties from the start, things were never going to be easy for the team behind the film and despite an all star-cast including Amitabh Bachchan, Ajay Devgan and Sushmita Sen the film failed miserably. Deemed to be the biggest flop in the history of Bollywood, one critic summed up its useless existence with a simple line: "The film can only be remembered for the hype it created and the subsequent box office debacle it became".
Bollywood HIT of the Year
WINNER: It's that man again, it's Om Shanti Om
There's never a challenge to small for Shah Rukh Khan and he proved it once again in 2007 when he starred in Om Shanti Om the biggest Bollywood box office film in the UK. The film itself was wonderful and what a sight to see 51 A-list Bollywood stars make guest appearances in the film!
Hero to Zero!
WINNER: Oh no, not Shilpa AGAIN!!!
Yes, it does seem odd that we championed her with the 'Story of the Year' Award, but seriously, how many of you have had all that you can stomach from Miss Shetty. We saluted her at the start of the year, and now we just want her to go back to being 'Shilpa Shetty, that Bollywood actress'. Stop Shilpa! We've had enough!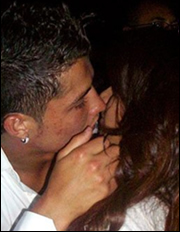 Villain of the Year
WINNER: 'Honestly it wasn't a kiss' -Bipasha Basu gets caught out!
Bipasha Basu said the media were guilty of blowing the picture out of proportion, but in reality the actress was guilty of not checking that any photographers were lurking before she got jiggy with football ace Cristiano Ronaldo. The fact that she got away with it after boyfriend John Abraham refused to show her a red card makes her one lucky lady. Still, she's definitely our Villain of the Year!
BREAK-UP of the Year
WINNER: Shahid & Kareena
They never seemed suited did they? Kareena finally gave Shahid the boot this year and got her claws into Saif Ali Khan. He's been warned!
COMEBACK of the Year
WINNER: Jay Sean
Proving he can be a hit without Rishi Rich, Jay Sean made 2007 his comeback year…and what a superb effort!
'Jailbird' of the Year
WINNER: Sanjay Dutt
Sanjay Dutt's 2007 had more Up's and Down's than the Pakistani cricket team! Whilst the fans flocked to the cinema to see their star, I doubt a few took the time to visit him in prison! Sanjay just beat fellow bad-boy Salman Khan to our 'Jailbird of the year crown!
Quote of the Year
WINNER: Z-list Bollywood Extra Jahnavi Kapoor.
"There's politics at play. I wanted to get in touch with Abhishek earlier. But Amar Singh warned me not to. My life is under threat. I wouldn't be surprised if I'm bumped off tomorrow and you read about it in the papers. I had been biding my time waiting for the kill. I couldn't restrain myself on the wedding day. I wanted my man back."
Remember Jahnavi Kapoor – the woman who tried to hijack the Ash & Abhi nuptials by claiming Bachchan junior was already married to her? Word has it she's now planning to upstage the Rooney nuptials this year!
Related Links