Bootcamp Media has been recognised as "Birmingham's Best Marketing & Web Design Agency" in the 2018 SME News UK Enterprise Awards.
Based in Birmingham's beautiful Jewellery Quarter, Bootcamp Media is a team of creative, driven individuals who excel at web design, SEO, digital marketing and brand development. The SME News Awards run annually and are designed to recognise the businesses that continue to innovate, exceed customer expectation and provide a service which enables them to thrive in a challenging digital economy.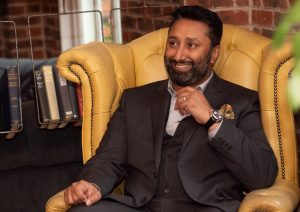 "We're delighted to have received this award," explained Jamil Shabir, Managing Director of Bootcamp Media. "Our team works so hard each and every day to create the best possible branding and web presences for our customers, and despite incredibly tough competition, we regularly demonstrate that we're different and worth investing in. This is a challenging, fast-moving industry, but we love keeping ahead of the game."
It's a busy year for Bootcamp Media, whose charitable endeavours are well known within the local Birmingham community.  In November, they'll be hosting the Christmas Phoenix Business Lunch at Hyatt Regency Birmingham, which will help raise vital funds for local charity, Birmingham St Mary's Hospice.
"We love supporting charities that are close to our heart and that hold the same values as the team at Bootcamp," said Jamil. "In November, The Phoenix Business Lunch is in aid of Birmingham's St Mary's Hospice– a local charity which supports people living with life-limiting illness – and I look forward to raising much-needed funds so that they can continue to deliver their expert care to people when they need it most. "
Charlotte Anson, Corporate Partnerships Manager at Birmingham St Mary's Hospice, said: "The Phoenix's Christmas lunch is always popular, so we're honoured that Jamil and his team chose the Hospice as their charity to support this year. It will cost £22,000 to run our vital services on Christmas Day – over 60 per cent of which needs to come from generous, voluntary donations – so funds raised at events like this really will make a difference to the local people and their families that we support."
Every day, Birmingham St Mary's Hospice cares for 400 people living with life-limiting illness across Birmingham and Sandwell.  Although a business lunch, the Phoenix event (which will be held on Thursday 29thNovember 2018) is firmly geared towards supporting this wonderful charity and the people it cares for. If you wish to book on then please visit – https://www.bootcampmedia.co.uk/phoenix/
"2018 has been a great year so far for Bootcamp media," explained Jamil. "Our team has gone from strength to strength, and the SME News award is certainly dedicated to them. The continued growth we've seen has come purely from incredibly hard work, but combined with our ongoing charitable efforts, I'm so proud of what we've achieved both commercially and as a staunch supporter of the local community."
To find out more about Bootcamp Media, visit https://www.bootcampmedia.co.uk.
To find out more about Birmingham St Mary's Hospice, visit: www.birminghamhospice.org.uk 
Pictured: Jamil Shabir, MD Bootcamp Media and Charlotte Anson, Birmingham St Mary's Hospice