On Wednesday 15th November 2017, as part of 'This Is Africa' The 12th edition of Punch Records annual BASS festival, Global Afrobeats superstar FUSE ODG visited City Academy, a free school in the heart of Birmingham's city centre to take part in a Q&A with a select group of year 11 music enthusiasts.
The Ghanaian artist best-known for his hit songs 'Antenna' and Sean Paul collaboration 'Dangerous Love' was empowering and encouraging the next generation of artists as he celebrated the release of his latest single 'Boa Me' featuring British pop favourite Ed Sheeran.
Fuse's interest in the education and success of young people can be traced back to 2007 when he raised funds to build a primary school for the children of a deprived area of Ghana. In 2017 he is continuing this mission further, not only by inspiring British school children, but by continuing to promote education for the young people of Ghana, this time by raising funds to build a secondary school in the same area as the primary school for those students now old enough for secondary education
Before Fuse sat down with the students, we caught up with him to talk about everything from Ed Sheeran to his love of Ghanaian food.
Where did your artist name 'Fuse ODG' come from?
ODG stands for Off The Ground – it was a group that we created when we were kids in Mitcham, South London, so I just kept it as my surname because they were like my first family in the street. 'Fuse' is because I just want my name to be in every household, like a fuse in a plug. Also 'Fuse' incorporates different vibes, like fusing stuff together
Your latest single 'Boa Me' featuring Ed Sheeran is out now, what was the inspiration behind this track?
Every song that I made with Ed in Ghana was inspired by the day that we had. He was there for just over a week and every day we would go out. Maybe we would go to the beach or to a local restaurant, i always made sure he experienced the real culture of Ghana and then we would go and make music.
When we made 'Boa Me' I had taken him to a school we are building in Akosombo, we have built a primary school over there and I was telling him about the mission and what we are trying to do for these kids by giving them an education. It's all about helping people and the song actually came off that vibe. 'Boa Me' actually means 'Help Me'.
Every Time we were at the house together it was so lively and fun, that vibe definitely came through in the track.
We wanted to make something authentic and different. Ed actually was the one that thought it would be sick if we did the chorus in 'Twi' – the local Ghanaian language. Ed doesn't speak any English in the song, every single word of the song he sang in 'Twi' which made it much more special and authentic.
Which do you prefer more, being in the studio or performing live?
I really love performing because you're connecting to the crowd and you're seeing people's reactions and seeing them sing along to your songs. I also really love recording the music as well because again it's just fun. You start with nothing and then all of a sudden you have a song. It's nice to see the transition from being in the studio to being on stage. I love both just as much so it's hard to choose.
Do you have plans to tour soon?
Yes – next year (2018) we will be doing a tour 100%, my next Album is coming next year, so after a few more singles and the Album I'll be going on tour. I'll definitely be coming back to Birmingham for the tour!
You've collaborated with some huge names during your career so far. Who would you like to work with next and why?
That's a hard one because before Ed Sheeran was actually at the top of the list! I like Damian Marley, he's really someone that I'd like to work with. I like Pharrell as well actually.
Recently African influenced music is enjoying a lot of commercial success in the UK, why do you think this is?
Because it's good vibes and good music. Music isn't really about language, there's no language barrier, it's about what feels good you know? Just Rhythm and melody and the message sometimes.
It's music that's nice and makes you feel good, everyone likes to be happy and African music is all about that and good vibes. It's not just that thought, the UK is such a diverse country and very embracing of other cultures, that makes me proud to be British. So even if you're interested in a different genre of music, you might have a friend that's African that starts playing it and then you start dancing to it and enjoying it, so the music gets shared across cultures.
If you weren't an artist what would you have done instead?
I'd probably be doing community projects and working with young people. I'd be running my businesses, being an entrepreneur and then using that to support community work.
As part of Punch Record's BASS2017, you're visiting students at the Birmingham school 'City Academy' today, and you are known for raising funds for schools in Ghana, why is contributing to schools so important to you?
The best way to educate the world is to start with the young people. From the age of a baby to like fifteen, that's the best time to teach someone because that's when they soak in the most information. After around 20 people get stuck in their ways and it's hard to teach people. Starting from early onwards is the best way to teach people and it's very important that we all do our part and teach them the right way. No matter what they are going to be taught from the TV to stuff they see on social media and on the streets, so we need to do our part to place the right educational tools for them to learn the right way. I feel like i have to do my part, that's why we are building another school in Ghana, so we can teach them the right way, so they can think the right way, so they can love themselves the right way. Rather than them being influenced by another group or company with the wrong agenda, we have to make sure we teach our kids to that they can go forward and lead the world because we are all going to get old someday and need them to take over.
BASS2017's theme is ''This is Africa', it celebrates the culture, art and heritage of Africa. What do you celebrate most about your Ghanaian heritage and culture?
I love the food and I love the music. So, food and music is the perfect combination. The food in Ghana is everything, its proper heavy food too but everyone can still stay slim. There this food called Waakye, it's like rice and peas but it's rice and beans, it's got a really hot pepper in it called —, it's really hot but I like spicy food. We have jollof, we have so many different local dishes that I know the world would love, just like they love our music.
When Ed came he said his favourite food was Waakye, so you should come to Ghana and try it and see that we have amazing food.
Also, everyone dances in Ghana, the music just moves people in the street, from people in the market to drives, everyone's dancing all over the place.
So I love our music, our food and our dancing.
You're currently raising money to build a secondary school in Ghana, having already helped to fund a primary school, where can people find out more and support this cause?
You can go to Gofundme.com/wewillrizetogether – We have now also teamed up with a Jamaican organisation to raise funds for refurbishments on a school there. So, we are building a school in Ghana and refurbishing Haile Selassie high school in Jamaica. The idea is to connect these young people, kind of twin the schools so they can start communicating with each other from early. There's a crazy distance between Africa and the Caribbean and also there's no direct flights, which is something I've not been happy about for a while and we are doing something about it, we are making noise and letting people know that needs to change because there's such a barrier between Africa and the Caribbean, physically and logistically, it just doesn't make sense. We need to fix all of that, we are doing what we can with linking the schools so that these young people are talking from early, so that they can start seeing each other, talking and building relationships and doing business in the future naturally. We have to start early.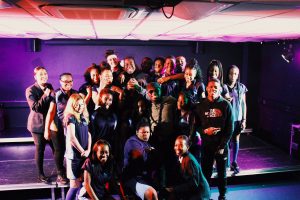 Interview by: Molly Adkins