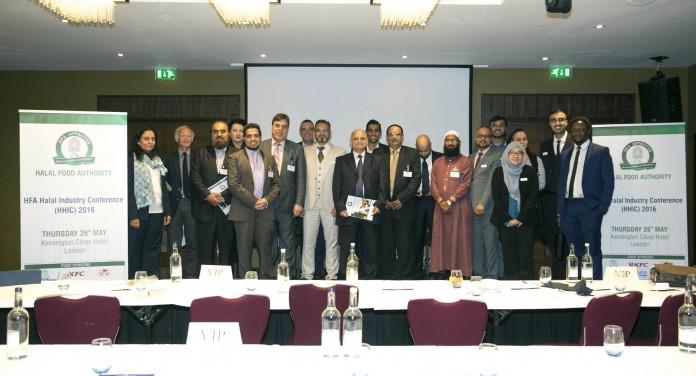 HFA successfully hosted its 2nd Halal Industry Conference (HHIC) 2016,  on Thursday, 26th May in London. Held in the prestigious Kensington Close Hotel, this world congress was accomplished by the sponsorship and support of Euro Quality Charitable Trust, KFC, Adros, Kellogg's, AHDB, Chicken Cottage, AIMS, Halal Verified Engine, MATRADE, Muntons, MITRANS, Halal Focus and En Route International.
HFA team sought to create an informative and inspiring experience with the intention to create impetus growth and progression in Halal produce and within the industry, with influential figures in the industry speaking at HHIC 2016, creating a stimulus for action in the Halal world, with topics of keeping and moving forward with the time. Every presenter at the HHIC conference, creating interest in every topic covered with his or her own unique style, delegates remained interactive and captivated with information and topics presented. HHIC wished to enhance education, whilst sharing the recent and potential developments in the Halal industry.
After welcome note by HFA Chairman, Dr Matin Khan, HHIC 2016 Inaugural speech was delivered by His Excellency Senator Dato' Dr Asyraf Wajdi Bin Dusuki, Deputy Minister in the Prime Minister's Department, Malaysia.
HHIC Leading Speaker's included Mr Khairul Nizam Moonier, Trade Commissioner of Malaysia, MATRADE, Mr Norman Bagley, Policy Director of AIMS, Mr Saqib Mohammed, CEO of HFA and Mr Khairil Ismahafiz, CEO, Dagang Halal, Malaysia covering topics on the Halal global Market, EU Welfare Regulations, HFA policies and standards, introduction of HFA new logo ideas and the exciting launch and introduction of Halal Verified Engine (HVE).
HHIC were pleased to introduce our next speakers Mr Abdalhamid Evans, Director of Imarat Consultants, United Kingdom covering topic on strategic analysis of the Halal globalisation and market growth patterns and Dr Phil Hadley, Head of Global Supply Chain Development, AHDB talking about the competitive edge of English Beef and Lamb.
HHIC was also honoured by the participation of Dr Jonathan A.J. Wilson, Advertising, Branding, PR and Marketing Expert at the University of Greenwich, London, who delivered an exciting presentation on Halal PR and Branding. Announcement was made of HFA exclusively appointing Malaysia Institute of Transport (MITRANS) as training and audit consultants to develop training programmes and Standard Operating Procedures for Halal Logistics and Transportation, as reiterated by Dr Harlina Suzana Jaafar, Director of MITRANS, University Technology, MARA, Malaysia. Ms Loraine Hughes, Head of Technical of En Route International Ltd, UK, lastly covered particular challenges for ensuring Halal requirements in the airline industry.
Full conference report will be available on HFA and HFF website.
HFA would like to extend a big thank you to all the presenters and participants of HHIC for their tremendous support, and we remain obliged to our sponsors for their valuable contribution, towards such a successful and most awaited event of the UK halal industry. We are extremely delighted to receive the positive post-event feedback from the participants of HHIC. HFA persists on progressing HHIC 2016 legacy for years to come and aim to follow excellence within the industry.