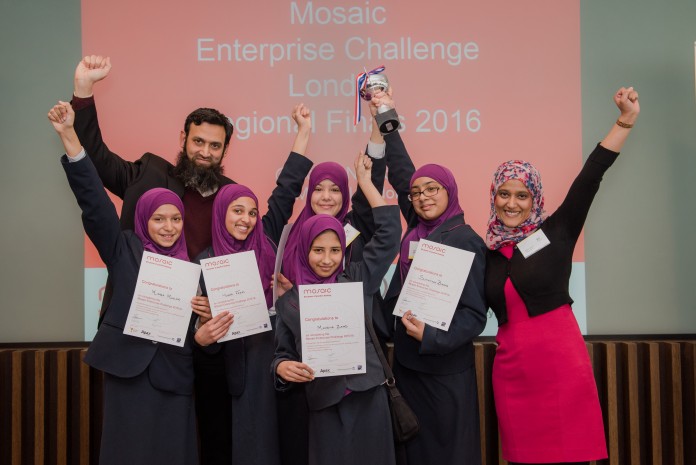 Mosaic, HRH The Prince of Wales's mentoring initiative, will from 1st July 2016 move home from Business in the Community to sister charity The Prince's Trust.
Having been founded by HRH The Prince of Wales in 2007, Mosaic's mentoring programmes create opportunities for young people growing up in our most deprived communities, with a particular focus on those from Muslim communities. Mosaic's vision is for all young people to be supported to realise their potential, with assistance from volunteer mentors.
With both Mosaic and The Prince's Trust sharing a very similar purpose – to help disadvantaged young people to overcome their barriers and move towards education, employment and training. It was agreed earlier this year that Mosaic and The Prince's Trust would move towards integration.
Mosaic will continue to deliver its high-quality Mosaic programmes, supporting more than 7,500 young people this year. The infrastructure within The Trust is well-suited to Mosaic's operations and will enable Mosaic to grow in scale and impact with improved efficiency and effectiveness.
Mosaic's Managing Director Jonathan Freeman, said: 'Mosaic is forever grateful for the warmth and generosity of colleagues and friends at Business in the Community, who have made the last seven years such a memorable experience, and helped facilitate the wonderful growth Mosaic has experienced.  We are now very excited to be joining The Prince's Trust to help share our award-winning programmes to even more communities across the UK."
Martina Milburn CBE, Chief Executive of The Prince's Trust, added:
"Mosaic is well recognised nationally for its high-quality mentoring programmes and ability to work with hard-to-reach communities. I am delighted Mosaic will be joining The Prince's Trust family and am very excited about the prospect of working together to reach and positively impact the lives of even more young people."

For more information on becoming a Mosaic mentor, please call 020 7566 8734 or email mosaic@bitc.org.uk