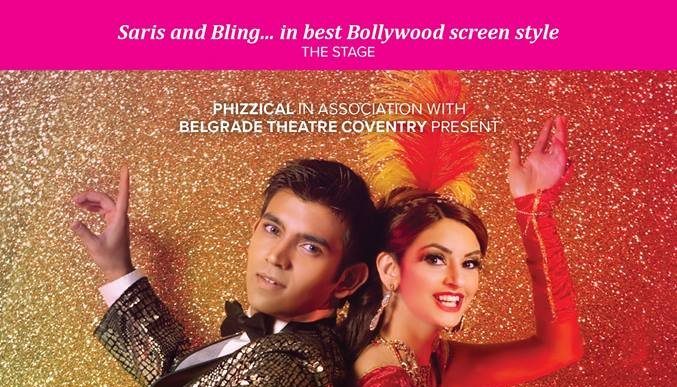 Written and directed by Samir Bhamra
Choreographed by Sonia Sabri, Leena Patel and Subhash Viman
Designed by Oliver Shapley and Faye Rowse
Music by Niraj Chag, 4MG Productions, Sonum Batra and Robby Khela
Lighting by Pete Bragg
Phizzical Productions in association with the Belgrade Theatre, Coventry present Bring on the Bollywood, a brand new Bollywood musical combining influences from British classical literature and contemporary Bollywood style.
City and country, old and new collide at Colonel Pawar's ancestral home – the shabby and un-chic Lakshman Villa. Confined within these walls, his wife Mrs Pawar pines for the cultural polish of London, New York or Paris!
Enter the dashing Bollywood actor Amit and his newly eligible cousin Ronny – a quiet and withdrawn young British man who is here to scatter the ashes of his love. The Pawars have found a potential suitor for their quick-witted and resolute daughter Katrina, who is sharp, sassy and in complete control, until she learns of her parents intentions. What could possibly go wrong?
Bring on the Bollywood's creative team include the critically acclaimed writer and director Samir Bhamra, choreography from internationally renowned performers Subhash Viman and Sonia Sabri and outstanding contributions from multi-disciplinary composer Niraj Chag. The unique sights and sounds of Bollywood cinema are recreated to perfection by musical director Sonum Batra, stage designer Oliver Shapley and Faye Rowse with costume design by Almari and lighting design by Pete Bragg.
Director Samir Bhamra said "Over the last decade Bollywood has been revitalised by a new generation of visionaries presenting contemporary stories coloured with the vibrancy of India. We wanted to to take British audiences on a journey to one of the most romantic locales, the Valley of Flowers and fill it with the comedy that comes from a dysfunctional Indian family."
Peter Knott, Area Director, Arts Council England added "One of our aims is to invest in the creation of artistic work which reflects England's contemporary culture. Phizzical's production of Bring on the Bollywood will do just that. Mixing iconic elements of Bollywood and British culture, the show will offer a new take on a traditional story that we hope will entertain and inspire audiences at the Belgrade."
Fresh from her role in the hugely successful Bend it Like Beckham on the West End, Nottingham-born actress Sohm Kapila stars as Katrina Pawaar. She is joined by Adam Samuel-Bal as Ranbir 'Ronny' Kapoor who was last seen at the Belgrade Theatre playing Sully in the critically-acclaimed UK Tour of Blood, a co-production between Tamasha and the Belgrade Theatre. Completing the cast are Sakuntala Ramanee, Rohit Gokani, Bhavin Bhatt, Rishi Nair, Nikkita Chada and Rasheeda Ali.
Phizzical is renowned for creating entertaining and thought-provoking theatre and dance that brightens the audience's imagination with the colour and spirit of Bollywood.
Bring on the Bollywood premieres at the Belgrade Theatre from Sat 23 – Sat 30 April 2016. For further information, visit www.belgrade.co.uk/event/bring-on-the-bollywood