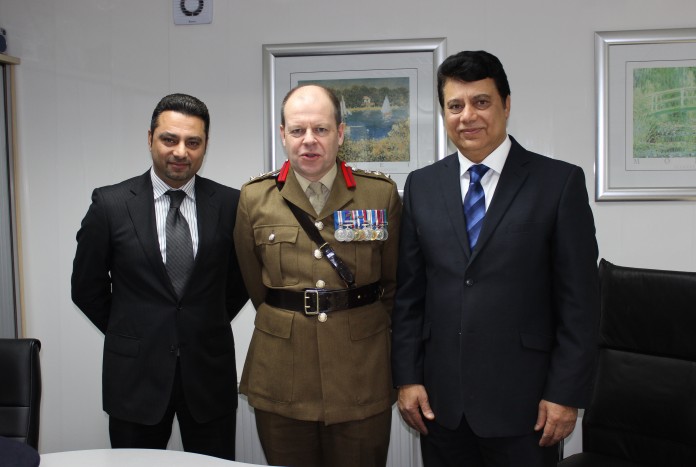 Nazir Awan, Managing Director of Awan International and Colonel Maybery, Deputy Commander from 11th Signal & West Midlands Brigade have co-signed the Armed Forces Covenant, pledging Awan International's Support at their wholesale and distribution business in Hockley, Birmingham.
The Armed Forces Covenant is a voluntary pledge from businesses who wish to demonstrate their support for the Armed Forces community.
Awan International is a family run wholesale distributor of market leading brands. They originally established a name in business in the mid 1970's and use their vast experience and knowledge within the industry to expand their business. They are big supporters of local charities and believe in giving back to the community.
Mr Awan felt that it was important to sign the Armed Forces Covenant because he values the work that our Armed Forces do, as well as their families who support them. This is understood first hand as Mr Awan's father was in the Royal Indian Air Force, prior to the partition, and then in the Pakistan Air Force and remembers what it was like when he was away on duty.
The next steps for Awan International is to increase their support by providing jobs and training to Armed Forces personnel and their families. They are also keen to support the Armed Forces charitable work recognising the role the Armed Forces play in protecting our nation and our families.
To find out more about the Corporate Covenant please contact West Midland RFCA's Employer Engagement Team on 0121 427 5221 ext: 242 or wm-empspasst@rfca.mod.uk