 Helpline aimed at Muslim women and girls

The Muslim Women's Network UK (MWNUK) has established and will operate a new national helpline aimed at Muslim women and girls who are suffering from or at risk of abuse or facing problems.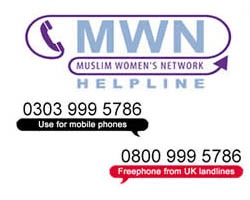 Culture often poses a barrier to seeking help because of dishonour, shame, stigma and being rejected by the community. Some women do not feel comfortable contacting local groups because they are often based in the communities in which they live and fear breaches of confidentiality. These women remain isolated and unsupported. The specialist faith and culturally sensitive helpline will therefore provide a safe space for women and girls to talk about their problems. 
Shaista Gohir MBE, Chair of MWNUK, said: "Muslim women and girls will be able to contact the helpline about a range of issues such as sexual violence, forced marriage, domestic violence, female genital mutilation, discrimination, mental health, self harm, marriage, divorce and polygamy.
More women and girls will get the help they need, make informed decisions about their lives and be more prepared when problems escalate. The helpline will be an important step towards seeing an increase in reporting of violence."
Faeeza Vaid, Executive Director of MWNUK, who will be presenting at the event said: "The launch of the helpline is timely because objectification of women is not the only problem. The largely negative portrayal of Muslim women in the media as 'not integrated enough' is resulting in rising Islamophobia and discrimination against them and we are likely to see this reflected in the helpline calls. We are already being contacted for advice.