 More Than £35k Will Go Towards Cure of Cancer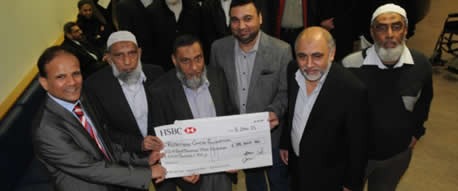 In a humbling and inspiring move, Preston's Muslim community have contributed their pocket money to help raise much needed capital for lifesaving lung cancer equipment at the Royal Preston Hospital.
The Muslim community in Preston came together to arrange a collection to help the Rosemere Cancer Foundation raise funds for the technology.
In a charity fundraiser that lasted six weeks and involved eight different mosques from the city, the group managed to raise a total of £38,340.
In a heart-touching meeting, the final amount was handed to the foundation which goes towards a final sum of £100,000.
The hospital is set to become the first hospital with technology that combines ultrasound and endoscopy technologies.
It allows doctors to spot the disease in its earliest stages – early enough to potentially cure it.
The came to Preston due to the efforts of consultant chest physician Dr Mohammed Munavvar who is regarded as one of the country's leading experts in the technology,
He was invited to Japan last summer to work with the equipment's manufacturers, Olympus to help fine tune its design.
As a thank you for his work, Dr Munavvar was given the kit first initially on loan and he asked Rosemere to fund it.
Preston Muslim Society appealed for families to make donations to help buy the equipment outright for Royal Preston Hospital.
Iqbal Adam, Preston Muslim Society spokesman, said: "It is our great pleasure to play a part in keeping this important piece of life-saving equipment in Preston. As a community, we feel it is our duty to help the hospital and we extend our thanks to the trust and Rosemere for their ongoing care."