After a dedicated service to the Asian community for the past 12 years, The Asian Today has added another award to its mantelpiece. The Birmingham-based newspaper was awarded 'Best Publication of the Year at the prestigious UK Bhangra Awards 2014. The awards ceremony took place on Saturday 29th November 2014 at Bayliss House, Slough, UK. The award was picked up by our regular sports contributor and professional football coach for the FA, Manisha Tailor.
Having been launched in September 2002 as a free monthly community publication serving the Midlands region, The Asian Today went on to be named as the "Best Local Newspaper/Magazine" at the Asian Media Awards 2013. As the Midlands premier English language Asian newspaper, it filled a much-needed gap in the publications marketplace.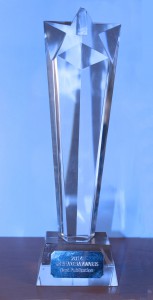 The Asian Today, was created to inform, educate and enlighten the British South-Asian population offering local, national and international news, and offering a platform for the community to voice their views and concerns. The newspaper has received a great deal of support from local communities, political personalities, community and faith leaders and second generation Asian readers – support which is vital for the success of all involved from the team to potential advertisers.
"We are grateful and honoured to receive this award, our gratitude goes out to our incredibly hard-working team and dedicated readers.
"This is a wonderful achievement especially after winning the Asian Media Award in 2013 and we hope to work hard towards future milestones like this. We at The Asian Today thank you for this recognition and look forward bringing you the latest online and printed news that matters to you." Anita Chumber, award winning editor at The Asian Today.
The awards ceremony was one of the biggest Bhangra extravaganzas of the year, which included live performances, dances, celebrations and recognition of the best in the UK's Bhangra industry.