 No Campaign Has Majority of 383, 937
(Reuters) – Scotland spurned independence in a historic referendum that threatened to rip the United Kingdom apart, sow financial turmoil and diminish Britain's remaining global clout.
A vote for the 307-year union is a relief for millions of Britons including Prime Minister David Cameron, whose job was on the line, as well as allies across the world who were horrified at the prospect of the United Kingdom's separation.
Unionists won 55 percent of the vote while separatists won 45 percent with 31 of 32 constituencies declared.            
Political leaders of all hues agreed that Britain would be changed for good nonetheless.
Unionists cheered, kissed and drank wine and beer in Glasgow, Scotland's biggest city where secessionists won, while nationalist leader Alex Salmond conceded defeat in Edinburgh, which supported the United Kingdom.
"Scotland has by a majority decided not, at this stage, to become an independent country. I accept that verdict of the people and I call on all of Scotland to follow suit in accepting the democratic verdict of the people of Scotland," Salmond said.
Cameron, speaking outside his official London residence in Downing Street, said the question of Scottish independence had been settled for a generation.
"There can be no disputes, no re-runs, we have heard the settled will of the Scottish people," said Cameron. The Queen, who is at her Scottish castle in Balmoral, is expected to make a rare comment on Friday.
The campaign for independence had electrified this country of 5.3 million but also divided the passions of friends and families from the remote Scottish islands of the Atlantic to the tough city estates of Glasgow.
Sterling strengthened sharply against the dollar and the euro while British share prices rose. Royal Bank of Scotland said it had scrapped plans to move its registered office to England.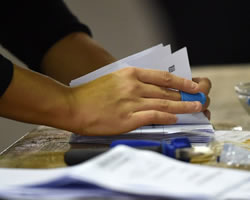 Though the break up the United Kingdom, the world's sixth largest economy and a permanent member of the United Nations Security Council, has been avoided, Britain's rulers admit the Scottish vote will lead to a reshaped the union.
Speaking in front of an image of a giant white on blue Scottish flag, Salmond laced his defeat with a warning to British politicians in London that they must respect their last minute promise of more powers for Scotland.
"Scotland will expect these to be honoured in rapid course," he said before walking off the stage, his head bowed.
FEDERAL KINGDOM?
Opinion polls showing a surge in Scottish separatist support in the two weeks leading up to the Sept. 18 vote prompted a rushed British pledge to grant more powers to Scotland, a step that has angered some English lawmakers in Westminster.
In an effort to deflate that anger, Cameron vowed to forge a new constitutional settlement that would grant Scotland the promised powers but also give powers to England, Wales and Northern Ireland.
"Just as Scotland will vote separately in the Scottish parliament on their issues of tax, spending and welfare, so too England, as well as Wales and Northern Ireland should be able to vote on these issues," Cameron said.
"All this must take place, in tandem with and at the same pace as the settlement for Scotland."
Cast as a constitutional revolution, commentators said Cameron's pledge of more powers to the constituent parts of the United Kingdom was aimed at sedating 'the slumbering beast of English nationalism'.
Cameron's Conservatives have seen members seep towards the United Kingdom Independence Party, an anti-European Union party, ahead of a referendum on EU membership that Cameron has promised by the end of 2017 if he wins the 2015 election.
"I'm not convinced by what I've heard this morning from Mr Cameron this morning that he seriously wants to address that," UKIP leader Nigel Farage said.
Seeking to tap into a cocktail of historical rivalry, opposing political tastes and a perception that London has mismanaged Scotland, nationalists said Scots, not London, should rule Scotland to build a wealthier and fairer country.
                               Though the nationalists won Glasgow, they failed to live up to opinion polls before the vote which forecast that the United Kingdom's fate was balanced on a knife edge.
                    "We have chosen unity over division, and positive change rather than needless separation," Alistair Darling, head of the "Better Together" campaign and a former British finance minister.
The vote prevents 59-year-old Salmond from winning his dream of an independent Scotland, a goal for which he has worked with a mix of shrewd calculation and nationalist passion for his entire adult life.
Unionists had warned independence would usher in financial, economic and political uncertainty and diminish the UK's standing in the world. They have said that Scotland would not keep the pound as part of a formal currency union.
U.S. President Barack Obama and European Union leaders had made clear they wanted the United Kingdom to stay together.
Marin Schulz, the centre-left speaker of the European Parliament, told German radio that while the referendum had been an internal matter for Britain: "I admit I am relieved by the result."
While Scottish leaders promised to work together, Scots remained divided in joy and disappointment over the fate of their country.
"I'm delighted. It's overwhelming as well. The people listened, they thought about it, and now they have spoken," said Sheila Gilmore, a Scottish-born Labour lawmaker who welcomed the preservation of the union.
But Calum Martin, a 21 year-old history student at Edinburgh University who voted for independence said the question of secession would return.
"It's a disappointing result but it sets the stage for going forward," Martin said. "As long as there are flaws, there will be calls for independence. You can't put the genie back in the bottle once it's out."