 Charity Sends Special Thank You to Volunteers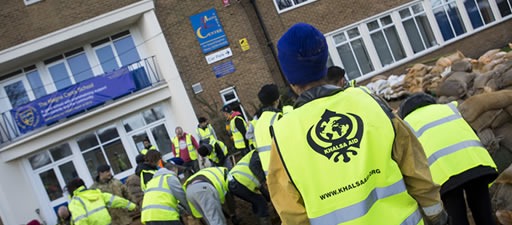 Khalsa Aid send a special message of thank you to their lovely volunteers and all the organisations that are assisting the relief operations in Berkshire, Surrey and Somerset, UK.
Chief Executive Ravinder Singh from Khalsa Aid, said: "It would have not been possible without the support of our volunteers who are our unsung heroes."
In Somerset, Khalsa Aid continues to work closely with Flooding on the Levels Action Group (FLAG), who have been the heart of the community. FLAG have become the hub of all the flood defences.
"FLAG has been the heart and soul of the community during this crisis and single handily performed miracles. They have been determined and passionate about the communities – it would have been even more horrendous then it is already had it not been for FLAG."
"The media have been magnificent in their support to raising awareness."
"The weather is expecting to turn for the worse and we are anticipating many calls for help. The work continues – please keep people in your prayers," added Ravi Singh.
Meanwhile, in Berkshire and Surrey, Khalsa Aid has delivered over 250 tons of sand including helping to deliver food.
Bal Sandhu, General Secretary at Khalsa Aid, said: "Our army of volunteers are real people making a real difference to our communities, but we still need more volunteers."
"We were delighted to receive many messages of appreciation and love, particularly today on Valentine's Day – from all at Khalsa Aid thank you for your lovely cards and messages of love."
Find out what our volunteers have been doing and their thoughts:
Bill Mato, from Leamington, Warwickshire has been coordinating in Berkshire: "I've been here for the last four days and can honestly say that all the volunteers from the community have done a fantastic job. There is great unity between all and it is good to see everyone come together, a real community feel. It's an honour to be here to help people by these terrible floods."
Ravi Singh Gill from Bedfordshire – volunteer in Somerset. He is used to assisting during natural disasters. He has been in Somerset since last Sunday morning.
"We've been helping to fill sandbags, set up barriers to stop water coming in and generally help people whose homes have been affected by the floods.
"We weren't sure what reaction we would get here but it has been amazing. Everyone here is so positive, they're not getting down about it, they're just doing all they can to help each one another."
Tony Singh Kale from Walsall has been assisting in Somerset and in Berkshire: "I've been assisting in Burrowbridge and in Berkshire – it really is shocking scenes out there, but by volunteering with Khalsa Aid I can make a real difference."
Babban Singh from Ealiing in Staines: " We were a group of volunteers helping all the way into the late evening – sand bagging and giving them to residents. We've been coming here after work and helping out Khalsa Aid."
Gobind Singh and Jagraj Singh from Basics of Sikhi, from Osterley, Middlesex, said: "It's been incredible and overwhelming – we are now helping in Sunbury."
Detective Constable Ravinder Singh Thind from the Metropolitan Police Service – volunteer in Wraysbury. "Khalsa Aid – humility in exemplary form in these testing times shows quite simply, this is local people saying let's fix this! We work hard for our homes to be safe and furnished, these testing times need a community response to restore confidence to those suffering from the fruits of their hard work being threatened. I saw an opportunity to transfer my skills from work; quickly organized, planned and delivered a great response for sand distribution, home protection and bare essentials for the residents of Wraysbury. Been a fantastic reception from the local residents and particularly meeting the Army yesterday and how appreciative they were."
Charanjit Kaur, a mother from Watford, said: "I've been working behind the scenes, assisting with the supplies for sand and bags. I've been volunteering with Khalsa Aid for over five years. My son is also helping out with the flood issues."
In Somerset, a few children left hand made thank you cards and left them on a vehicle for Khalsa Aid and Midland Langer Seva. When the volunteers returned from their duties, they were overwhelmed: http://www.youtube.com/watch?v=qIO-0aiE2Ak
There are so many people and groups Khalsa Aid would like to thank as part of the rescue and relief operations from large companies through to individual teams.
If you are able to spare a few hours to assist those affected by the floods, in Berkshire and Surrey over the coming days please call the KHALSA AID VOLUNTEERS HOT LINE 07474 459263 info@ khalsaaid.org.