 'BBC Asian Network Presents…' will develop new talent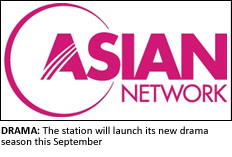 A NEW drama about a young Asian girl and her experience on Big Brother will launch a new season of drama on the BBC Asian Network next month.
Written by Shai Hussain, 'Reality Check' features former Hollyoaks actors Lena Kaur and Junade Khan, and follows a young girl through her Big Brother experience, which she intends to use to reveal her true self to her family back home in Yorkshire.
The drama, which will air on 1 September, is part of the Network's new drama strand titled 'BBC Asian Network Presents…'
It replaces the stations former long running radio drama 'Silver Street' which ended in March this year.
The station said the new drama season will "cover a range of stories and styles", and will "develop new talent both on and off air." Each single episode drama will last 30 minutes with a new drama each month.
Vijay Sharma, Head of BBC Asian Network, said: "I am pleased that the Asian Network is leading on showcasing Asian writing and creative talent in the drama genre. As well as being entertaining, these dramas will reflect real issues, passions and stories, which touch the lives of Asian communities in Britain."
Future dramas include 'We're Not Getting Married', written by Tajinder Singh Hayer and starring Kulvinder Ghir (Goodness Gracious Me), Sonali Bhattacharyya's 'Ping Pong', and 'My Friend The Bollywood Superhero' written by Kris Kenway.