 Bhangra legend awarded honorary doctorate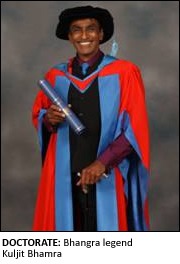 BHANGRA legend Kuljit Bhamra has been awarded an Honorary Doctorate in Music from the University of Exeter.
Kuljit joined an acclaimed list of key figures, from sporting heroes, scientists, activists, politicians and dignitaries in being awarded a Doctorate in Music.
He was joined by TV Newsreader Moira Stewart; Sir Ian Botham and Human Rights Activist Shami Chakrabarti in being presented his award.
"I am delighted that my music has reached people of all backgrounds and ages and that I have been able to share my passion and creativity with the world," Kuljit said.
"My father had a dream that I would one day become a Doctor and now at last he can call me one!"
Kuljit has composed and produced over 2,000 songs and is responsible for the rise to fame of numerous Bhangra and Bollywood stars.
He has worked, both independently and collaboratively, on film scores for over ten years, including the soundtrack for the award winning Bhaji on the Beach, A Winter of Love, Bend it Like Beckham and his music has also appeared on The Guru, The Four Feathers and, more recently, Alexander, Brick Lane and Charlie & The Chocolate Factory.