 Bollywood elite unite for Indian 'Oscars'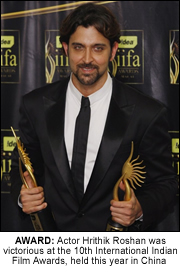 BOLLYWOOD epic Jodhaa Akbar has swept the 10th International Indian Film Awards held in China.
The historical film about a Muslim-Hindu relationship blew away the competition as it scooped 11 awards.
Its leading stars Hrithik Roshan and Aishwarya Rai Bachchan attended the awards alongside a host of top Bollywood stars.
The film won the coveted Best Picture Award, while Ashutosh Gowarikar won the award for Best Director and Hrithik Roshan for Best Actor.
It also picked up awards for Best Make-up and Best Costume.
Indian composer A R Rahman who earlier this year scooped an Oscar for Slumdog Millionaire, was also in joyous mood after he won the Music Direction award for his work on the film's soundtrack.
Actress Aishwarya Rai, whose father in law Amitabh Bachchan is a brand ambassador for the awards, was unable to complete a grand slam for the film after losing the Best Actress award to Priyanka Chopra.
Receiving his award Jodhaa Akbar director Ashutosh Gowarikar told the star-studded audience: "When I started this movie I was advised by all my friends not to make the film on a subject which depicted two religions coming together because the situation in the country at that point of time was not right. But I am happy that I made a film which is based on Hindu-Muslim unity."
Other winners on the night included Kangana Ranawat who won the Award for her performance as Supporting Female Actor in the film Fashion, Arjun Rampal who came out victorious for Best Male performance in a Supporting Role for Rock On, and Abhishek Bachchan, who won the Best Actor in a Comic Role for his gay act in Karan Johar's 'Dostana'.
Abhishek dedicated his award to his father. "When I was a child I saw 'Amar, Akbar, Anthony' and I told myself that I want to be like him (Big B) and I am here because of him. I thank my mother and my wife. Aish, I only love you," he said.
His wife Aishwarya did pick up her own award – Female Star of the Decade, while the Male award went to Shah Rukh Khan.
Legendary actor Rajesh Khanna was also honoured with The Lifetime Achievement Award.