The Birmingham Thyagaraja Festival is the most popular annual festival of Indian Classical Music and Dance held in the West Midlands.
ShruthiUK is delighted and proud to receive patronage for the BTF from both UNESCO and the United Kingdom National commission for UNESCO.
"The UK National Commission for UNESCO is delighted to be able to support the Birmingham Thyagaraja Festival, (BTF), now in its 8th year! The festival brings together musicians and dancers from all over the country in celebration, providing a vital and inspiring exchange of cultural knowledge and tradition.  The Commission wishes the festival every success this year, and in the years to come." James, Andrea and Charlie, UNESCO-UK
The 8th annual festival, organised by ShruthiUK, is a celebration of Indian classical music and dance to commemorate the 175th birthday of the South Indian Singing Saint & Composer Thyagaraja.  The festival is vibrant and colourful and reminds us of our rich Cultural heritage and our respect towards the legendary composer for his contribution to Carnatic Music.
The 8th annual Birmingham Thyagaraja organized by ShruthiUK is a musical tribute to the great South Indian Singing Saint and composer Thyagaraja ji. The Nehru Centre is delighted to support the festival which features Indian classical and folk arts professionals and young people from across the globe who gather to offer a humble musical tribute. I send my best wishes to the festival organisers.' Amish Tripathi, Minister (Culture), Indian High Commission, UK & Director, Nehru Centre, London
Also known as the BTF, the festival was on a virtual form in this year as well, which brought artists, professionals and young music aspirants together from across the globe.
Andy Street, Mayor of the West Midlands, said: "We look forward to the Birmingham Thyagaraja Festival – the annual festival of Indian classical music and dance in honour of Saint Thyagaraja – taking place virtually on Saturday 12th March 2022. The festival has received patronage from UNESCO-UK and is being supported by several local institutions as well as businesses from right across the UK and indeed around the world. This cultural collaboration brings together the British Indian community from around the Midlands and the wider UK as well as supporting the strengthening of the longstanding links between Britain and India. I am pleased to take this opportunity to send my best wishes to Shruthi UK and the BTF Team for a successful Thyagaraja festival."
The festival had an overwhelming response which turned to be a two- day festival featuring over 150 performances of Indian Classical/ Folk music by professionals and young people from across continents showcasing their brilliant talents with great enthusiasm, to honour and pay homage to the great
Singing Saint Thyagaraja.
The BTF 2022 was hosted in partnership with the Consul General of India, Birmingham; The Nehru Centre, London; Mr Andy Street CBE, Combined Mayor of the West Midlands; Mayor of Solihull; University College Birmingham; Touchwood in Solihull; St James Clinic, Birmingham; Solihull Chamber of Commerce; Solihull Bid; Asian Business Chamber of Commerce; The Royal Asiatic Society of Great Britain and Ireland, along with a host of other premier national and international partners.
UNESCO letter of patronage
"The festival showcases local talents and young people performing Indian classical music and dance, as well as including panel discussions exploring the various forms of music and dances of India. This celebratory event supports inclusive social development, fostering intercultural dialogue, protects, promotes, and transmits heritage, and fosters creativity and the diversity of cultural expressions.
The festival commenced with the welcome address from Cllr Ken Meeson, Mayor of Solihull; Andy Street, CBE, Combined Mayor of West Midlands; Mr. John Crabtree, OBE, Her Majesty's Lord lieutenant of West Midlands, His Excellency Dr Shashank Vikram IFS, Consul General of India in Birmingham and Dir. Paul sabapathy, CVO CBE, Her Majesty's Former Lord Lieutenant of West Midlands and Patron of ShruthiUK.
Celebrating Women And Honouring Women Achievers -2022
Every year, at the BTF, in lieu of International Women's Day honours women achievers
at the awards ceremony, recognizes outstanding women, who have made a positive impact and contribution to the society through their skills and passion.
The inspiring women honoured during the BTF 2022 were:
Dame Yve Buckland, Chair of Birmingham and Solihull Integrated Care System, Pro Chancellor, Aston University
Samantha Frampton, Head of Solihull Chamber of Commerce
Romanah Malcolm, Creative entrepreneur, author and artistic director,
Mathangi Asokan, Former District Judge, Birmingham
Balbir Seimar, BEM, Chief WASUP Community Engagement Ambassador
The Patron and the governing members of ShruthiUK would like to express their heartiest congratulations to all three inspiring women who were honoured this year.
Every year, the festival supports a charity and helps to raise funds for a noble cause.  This year, the BTF is proud to support an international charity, Holy Cross Services, in Trichy, India, which aims to provide a high level of professional support to all persons with disabilities situated in both rural and urban locations
"Festivals such as the BTF, further strengthens the cultural and economic links between India and the UK, defining and celebrating India's unique cultural heritage and its national identity and help preserving them in the years to come; and share it to wider communities, making it culturally diverse and distinct.
The festival is in a virtual platform for the second year. For the first time in the history of the festival, the BTF is live streamed for two days due to the overwhelming participation of artists from across the globe.
Curating the festival required a lot of coordination and planning and much emphasis was given to provide an opportunity for the youth to showcase their talents. The virtual festival format has enabled successful partnerships and to connect with key professionals and organisations from across the globe.
This cultural festival has evolved and have been passed on from many generations and are still practised with great respect and fervour globally. As an artist of Indian origin, I take great pride in my Indian culture, traditions and heritage.
It helps them give the rich experience to learn, enjoy and to unite all of us through the Indian classical art forms .
A huge thanks to all our esteemed Sponsors, Global Patrons, Ambassadors/Youth ambassadors and our esteemed participants involved in putting together this amazing event at such challenging times.
The festival would not be possible without the wonderful support of the participants from across the globe.
"Dr Chithra Ramakrishnan FRSA, Founder & Artistic Director, ShruthiUK, Curator, Birmingham Thyagaraja Festival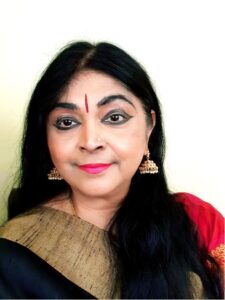 The festival was supported by Shankar Mahadevan Academy as our technical partners and
The Singapore Fine Arts Society (SIFAS) as our Creative Partners, under the leadership of M.K.V. Rao, President (SIFAS).
The BTF launched its theme track composed by the renowned South Indian violinist, Maestro Vittel Ramamurthy.
Several young people took great pride in showcasing their talents representing various forms of Indian classical and folk music and dance.
Mr Tony Elvin, Patron, Birmingham Thyagaraja Festival, President, Solihull Chamber of Commerce delivered the vote of thanks.