Jagga Jasoos has been making waves since its release. The new Bollywood venture stars Bollywood's hot new favourite Ranbir Kapoor alongside love interest Katrina Kaif who leap into adventure together to unravel the mystery behind Jagga's missing father.
In this interview, Ranbir and Katrina reveal what drew them to the script, their thoughts on their characters and each other.
Q&A with Ranbir Kapoor
This is your first movie as producer, are you happy with the outcome?
I am more than happy with the final product. I never expected the film to turn out like this. This is a kind of a film I've never seen anywhere in the world, not just Hindi cinema. I am really excited to partner with people like Katrina, Pritam, Anurag Basu, Amitabh Bhattacharya and Ravi Varman. The entire cast and crew believed in the film. It always feel great when you believe in something and it shines. It's a good feeling. I hope the audience too likes it.
What did you like about the film?
There are three things I like about the film,
The fact that I play detective
That it's a musical
And the kind of adventure that peeks through
Why did you agree to play a detective?
I and Dada (Anurag Basu) were working on a Kishore Kumar biopic, but that wasn't working out. So we discussed making a film would be universal. A film that you could see with your kids and parents. One that touches you and makes you smile and also gives you a cinematic experience. So those were the basic objectivities we had in mind. He (Basu) had this story about a singing detective who stammers. The story is about how a he traces his missing father. The plot also involves a girl. I found everything interesting and that is how Jagga Jasoos happened organically.
Are you attracted to detective films?
Yes, I am a huge fan of Byomkesh Bakshi, Feluda, Sherlock Holmes (all fictional detective characters), and also the Adventures of Tintin. I have always been a huge detective fan.
Why should we watch Jagga Jasoos?
I just want to reach out to all of you with true stories and real entertainment. Britain is such a big market for films. The film is about a shy young boy and his quasi-detective nature, who sets out on a mission to find his father. The film has stunning visuals and an interesting plot and I hope the audience receives it well.
Q&A with Katrina Kaif
Tell us a bit about your character in the film?
I play a journalist called Shruti. The personality trait Dada (Basu) has given her is that of a Calamity Jane. Disaster follows her wherever she goes and this is something Jagga (Ranbir) notices in her character and it's something he likes.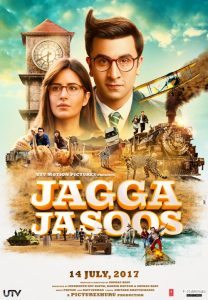 And why did Basu etch out these characters like that?
Basu is drawn to imperfections in people. He doesn't like things to be classically beautiful, heroic or feminine. He is drawn to the uniqueness of each person and that's how he has constructed the character of Jagga who stammers and Shruti who is very clumsy. He created two very complex, imperfect people. It's about how they come together and how everything kind of goes right for them.
How was it working with Anurag Basu?
Dada wanted to scratch the surface and find more about me (as an actor). So, he would watch me, spend time, talk and observe me. He managed to bring out a side of me which is true to whom I am inherently. Of course, we have a different demeanour in public-glamorous, all dressed-up and correct. But at the end of the day, I am just a normal girl. I am simple person who has her own insecurities and complexes. This is what Dada was looking for. He looked at the core of who I am, and that's the quality from my personality he has used to portray my character in Jagga Jasoos.
Did you find the weather too hot to handle while shooting films in Abu Dhabi?
I loved shooting in Abu Dhabi. In fact, the heat didn't really bother me at all! We shot here for a film called Bang Bang, Next month we are coming back for Tiger Zinda hai. It's a beautiful place, the food is great, people are lovely and we get huge support from the Abu Dhabi authorities – they were really helpful during the shooting here.
Memories…
This is the first-of-its kind in this genre. It is hard to give a particular tag to it and this is what makes it super exciting. I haven't seen anything like this before. This will always be one of my memorable experiences.