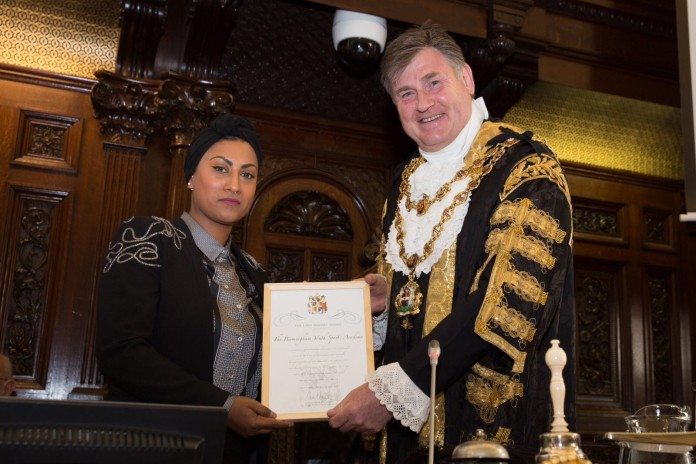 Birmingham Youth Sports Academy celebrating 15 years of voluntary contribution to community sports but it doesn't stop there, the 2017 end of seasons awards dinner was held at Ziryabs Buffet in Alum Rock, Birmingham where over 200 people attended the awards dinner with the current team players and their parents.
The BYSA awarded under 12's, 14's, 16's and the girls at the dinner. The event was mixed with a high volume of female parents that attended to show their support for the BYSA girls project which has celebrated its first year and has gone from strength to strength.
The evening consisted of kids, parents, sponsors, distinguished guests and our ambassadors. Celebrating the top kids that performed over the season 2016/2017 at the central Warwickshire youth football league and winning the League shield cup final (Under 14's) and our Under 12's finishing 4th in the division and our under 16's finished joint 2nd.
The awards ceremony commenced with Bakthyar Hussain who hosted the event and what a fantastic job he did. Starting off with Shakeel Hussain (Manager of Under 12's team) awards his players as follows: Top goal scorer – Saeed Khattak, Managers player – Waqas Ali, Clubman – Ridwan Ali, Star Award – Zakir Islam & Most improved – Zak Boukhemici.
Followed on by Riaz Ul-haq Khan (Manager of Under 14's) awards his players as follows: Top goal scorer – Fuseani Sani Nartor, Managers player – Harisulah Jan, Most improved – Hamza Hameed, Clubman – Isah Shahid & Star award – Yousuf Khan.
Followed on by Hassan (Manager of Under 16's) awards his players as follows: Top goal scorer – Emannuel Marcu, Managers player – Fernando Schian, Most improved – Noor Agha, Clubman – Ionut Paun & Star Award – Mansur Ibrahim.
Followed on by Amina Begum (Head girls coach) with Ummanaz Ali (Assistant girls coach) awarded 5 girls with outstanding achievement awards and then a treat to the girls that started the girls project in the winter and still maintain to regularly attended and therefore the Amina and Ummanaz decided to give medals to them all ages ranging from 6-12 years old. This was a big surprise to have so many females attend with their child and showing the girl power at the event what a great turn out and successful project.
Thereafter Mr Anwar Khattak (BEM) was asked to give out the remaining awards to the hard work by all managers and coaches that have put so much time into the BYSA teams and project and awarded them in style saying a few words on each individual as follows: Shakeel Hussain, Bakthyar Hussain, Riaz Ul-ha Khan, Umar Shireen, Aminah Begum, Ummanaz Ali, Abid Salim and Hassan. All names that were called out had the pleasure of our sponsors and ambassadors awarding them and saying a few words on stage about the BYSA.
Furthermore, after the awards presentation, it followed by a great three course meal and drinks. The Raffle was the amazing moment of the night where the children could only purchase a raffle ticket for a chance of winning some great high profile memorabilia and therefore one prize for each age group was raffled off letting a child win from each team a prize to remember.
The BYSA was awarded the Lord Mayor Award on the May 23rd for the hard work they offer the community. BYSA head female coach Amina Begum attended the Council House in Birmingham city centre to accept the award.
Finally, BYSA like to thank everyone that attended and made the event a success a big thank you to DJ Manj from Saqi Roadshow, Waqar Qureshi from Kings Media and Ziryabs Buffet for letting the BYSA hold its end of seasons awards dinner local for the community to attend. We hope to see you all next year.
See all the pictures from the Charity Dinner & the End of Season Awards here: goo.gl/NSfJvC