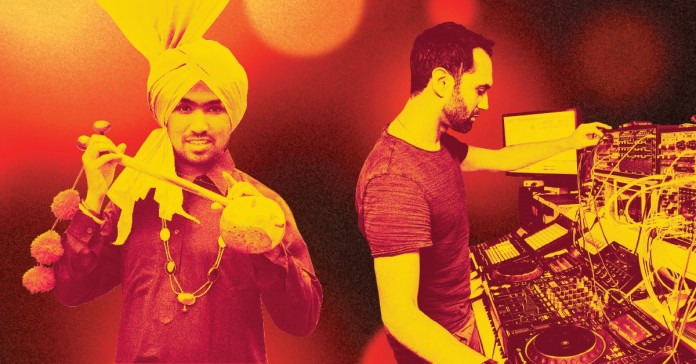 PunjabTronix, a new international collaboration between Mercury nominated British-Indian music producer DJ Swami and traditional Punjabi folk musicians, will tour the UK this July. This is a new project, produced and commissioned by Asian Arts Agency as part of Reimagine India 2017, a cultural exchange programme celebrating the 70th anniversary of the Independence of India in 2017.
PunjabTronix features an exciting new creative collaboration between technology and tradition, as cutting edge live electronica and digital technologies combine with the traditional sounds of the Punjab.
Mixing live electronic dance music with Punjabi dhol drums, vocals, stringed instruments and the hypnotic sounding double flute algoza, the live show will feature the powerful distinct rhythms and traditional melodies of the Punjab interacting creatively with live electronic drum machines, synthesiser arpeggios and basslines.
Technology meets raw Punjabi folk music
Visual projections of original digital animations and cinematic Punjabi imagery, produced by Bristol based filmmaker John Minton, will complete a unique musical and visual event.
In the show, audiences will hear many famous Punjabi folk songs, including Challa, Heer and Jugni, which have been performed over many centuries and have now been reimagined for PunjabTronix.
The project was developed through a series of creative residencies between DJ Swami and musicians in Punjab. The first took place in India in February 2016, with a second in February 2017. A final residency will take place in Bristol in July 2017 before the artists tour the UK.
This exciting new live show will tour to the following venues in July 2017 (with more to be announced soon):
Tour dates
13 July 2017             London, Horniman Museum (part of their Indian Summer Late series, not full show)
16 July 2017             Bristol, Arnolfini
18 July 2017             Norwich Arts Centre
19 July 2017             Cambridge Junction
20 July 2017             London, Rich Mix (full London show)
21 July 2017             Birmingham, Mac
22 July 2017             Nottingham, New Art Exchange
Jaswinder Singh, Project Producer and Director of Asian Arts Agency, said of the tour:
"We are delighted to be presenting 'PunjabTronix', a brand new, exciting contemporary music project where technology meets raw Punjabi folk music. PunjabTronix is a new commission from Asian Arts Agency to celebrate the 70th anniversary of the independence of India and we are grateful to Arts Council England for the Reimagine India funding support.
"This international collaboration between the exceptionally talented British and Indian artists is receiving global attention from audiences and promoters. I am looking forward to the national UK tour in July and hope that audiences will have a great time enjoying this new music performance."
international collaboration between the exceptionally talented British and Indian artists
DJ Swami said:
"I am really excited to be touring PunjabTronix to UK audiences in 2017. PunjabTronix is a progressive insight into my third generation British-Indian influences of electronica, hip hop and Punjabi folk and I am honoured to share this experience collaborating with the finest musicians of Punjab, set to a mesmerising cinematic backdrop of cultural harmony."
The Musicians 
DJ Swami – Lead Artist
Mercury nominated DJ Swami has always explored the hybrid diaspora identity; from producing and co-writing the journey of Swami (So Who AM I?) to building the Swami sound, pioneering British Indian influenced popular music over the past 20 years, finding synergy and pushing the boundaries of British and Indian contemporary music to create exciting new musical milestones.
Swami's unique creative perspective and interpretations of fusing western popular/contemporary and Indian music has been honoured worldwide, with Ivor Novello (1993), Mercury Music Prize (1993) and Grammy (2004) nominations to winning Best Producer at the UK Asian Music Awards (2005 and 2008).
Vijay Yamla (multi-instrumentalist)
The grandson of celebrated Punjabi folk singer, Yamla Jatt, Vijay is an extremely talented multi-instrumentalist who will bring his vast musical experience to the project, playing traditional Punjabi instruments such as Tumbi (1 stringed instrument), Tumba (larger version of Tumbi, 1 stringed instrument), Algoza (double-flute instrument), Bugchu (stringed instrument) and Vanjali (Punjabi flute).
Dheera Singh (Sarangi & Dhad)
Dheera is one of the most sought after Sarangi players from Punjab. He has performed and recorded for a number of leading Punjabi artists and featured on their albums. He has also played on a number of Bollywood film soundtracks, including the hugely successful 'Singh is King'. Dheera will also play 'Dhad' (a smaller traditional hand drum).
Naresh Kuki (Dhol & Dholak)
One of the most talented Dhol players in Punjab, Naresh has performed on albums and worldwide bhangra hits with Panjabi MC and many other internationally acclaimed artists. Naresh will play Dhol and also the smaller sized drum, Dholak, on the tour.
The Visuals
John Minton
Bristol-based filmmaker, John Minton, is known for his experimental, lo-fi and hallucinatory style. Characterised by grainy super-8 textures, a palette of iridescent, glowing hues, and mesmerisingly evocative imagery. John's distinctive flair has lent itself to music videos for Noel Gallagher, Portishead and Savages amongst others.
John will provide live visual projections for the UK tour of PunjabTronix.
Part of Reimagine India 2017
PunjabTronix is a new project produced and commissioned by Asian Arts Agency in partnership with Watershed, Bristol, to respond to Reimagine India 2017, a cultural exchange programme designed to develop creative collaborations between artists from England and India.
Punjabtronix is funded by Reimagine India and is part of the 70th anniversary celebrations of the Independence of India.
Tour information:
www.asianartsagency.co.uk/punjabtronix
Video:
Introducing Punjabtronix:
https://youtu.be/fWvuPZW9j_8
Introducing Punjabtronix – the musicians:
https://youtu.be/kfmTQ5ra61s