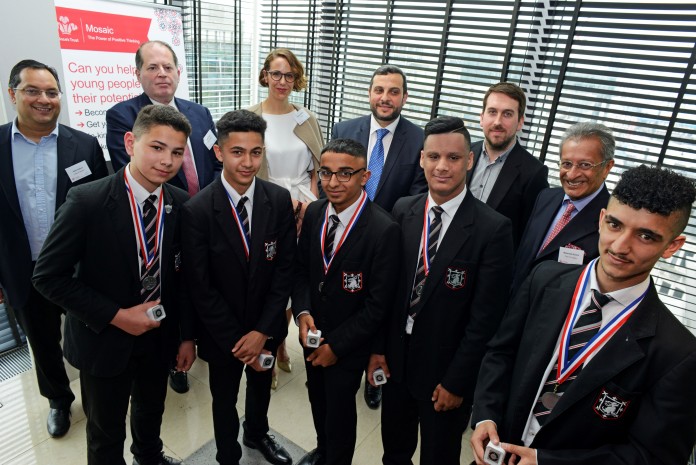 A team of young entrepreneurs from Birmingham has come second in the Grand Final of the prestigious Enterprise Challenge competition run by Mosaic, an initiative of The Prince's Trust, against five other teams from across the UK.
Team Low Cost Compost from Hodge Hill College, Birmingham impressed the experienced judging panel with their business idea that reduces waste in schools by turning it into compost, which is then used to grow vegetables to be sold to the school and local community.
Pupils from team Low Cost Compost said: "We're so happy that we came in second place! Working on the presentation was definitely our favourite part of the whole competition. We practiced every business lesson and sometimes before and after school too! Without our mentors we would have been lost. They had so much confidence in us and that's what got us second place."
The team's mentors Lee Dalton and Ruzwan Boota said: "It's been amazing to see the boys grow all the way from day one, right through until now. Seeing the smiles on their faces today and how much they've grown in confidence – well, it's really rubbed off on us. It's inspired us to step up like they have, and do something amazing."
The winning team from Skinners' Academy in London was awarded £2500 for their school and a £500 seed fund to help make their winning idea a reality. The other finalists in the incredibly close Final were from Gordon's School in Surrey, Holyrood Secondary School in Glasgow, Ladybridge High School in Bolton and Dixons Academy in Bradford.
The Grand Final was hosted at the offices of Hogan Lovells International LLP in London on 17 May and featured a keynote speech by entrepreneur, chef and musician Levi Roots who was made famous after his appearance on Dragon's Den. The final was compered by BBC broadcaster Sonali Shah.
Chair of the judging panel and CEO and co-founder of Emergent Telecom, Mohamed Amersi, said: "I really enjoyed today's competition. I've been to the Enterprise Challenge final for four years now and quite honestly this event was the best in terms of the teams' preparation, their pitches and articulation. The competition was tough this year, tougher than it's ever been. It's good to see so many young people thinking about what they would like to do to improve the world."
Keynote speaker Levi Roots said: "It was such an inspiring day, hearing the kids and watching them pitch reminded me of myself when I was on Dragons Den. I think that they were wonderful, they are all winners! My top tip to all the finalists going forward is be yourself. Don't change for anyone!""
After the final, the winning team was whisked off in two luxury Rolls Royce Phantom cars and treated to an exclusive lunch at Twitter's London HQ followed by a London Eye private capsule experience. The other finalists received a tour of Tower Bridge, before all teams were treated to an exclusive tour and afternoon tea at Harrods.
Mosaic's Enterprise Challenge is a national competition that sees mentors from the business community work with young people in schools some of the most deprived areas of the UK to develop exciting, feasible business ideas.  The winners from each school then progress to regional finals, with the regional champions being invited to the prestigious Grand Final.
The 2017 Enterprise Challenge is sponsored by Apax Foundation and Qatar Charity UK.
For more information on Mosaic, visit www.mosaicnetwork.co.uk, email mosaic@princes-trust.org.uk or call +44 (0)203 222 5913.