Udaipur's position as one of India's premier heritage and cultural destinations is being showcased in a new book.
'Living Heritage of Mewar: Architecture of the City Palace, Udaipur' is out now after being launched at the Taj Mahal Palace, Mumbai by Dr James Cuno, President and CEO of the J Paul Getty Trust, in the presence of Shriji Arvind Singh Mewar, Chairman and Managing Trustee of the Maharana of Mewar Charitable Foundation (MMCF), Udaipur.
The book documents a major project, first started in 2005, funded with grants from Getty, to conserve the living heritage of Udaipur's famous City Palace (see notes to editors). The 200,000 sq ft palace, which is now a museum, is one of the finest examples of combined Rajput and Mughal architecture in India and has been home to 23 successive Maharana's of Mewar, the oldest royal serving dynasty in the world.
The foundation of the palace in 1559, and the city of Udaipur, was laid by Maharana Udai Singh I along the banks of Lake Pichola, which historians and environmentalists have hailed as a 'strategic, sustainable and smart' move.
The present Maharana, Shriji Arvind Singh Mewar, said the book launch marked a milestone in the redevelopment of the City Palace and thanked Getty for its guidance and support for the conservation planning led by Dr Shikha Jain.
"Our commitment to living heritage is complete," he said. "By working with Getty we wanted to show art and heritage institutions worldwide and cultural travellers how serious we are about conservation. We have not just talked and let the masterplan gather dust on a shelf, we have put the plan into action with a huge amount of work over more than a decade.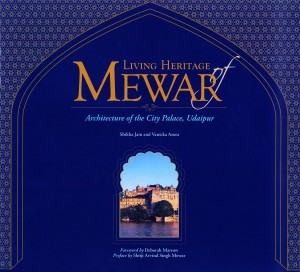 The history and culture of Mewar is vast and awesome and must be protected and championed. Udaipur, and the City Palace, capture the very best of India, and help tell the history of our country and our people. Our aim is to conserve this living heritage and catapult it out to India and the world.
By managing living heritage properly, working with Getty and the United Nations, we will encourage visitors and investment from all over the world in Udaipur helping drive growth and job creation. We are merely custodians of Mewar and our job is to ensure Udaipur and the City Palace are in the best possible position to support future generations. That is at the very essence of this project, and the MMCF, and I want to thank Dr Jain for her formidable work."
Shriji Arvind Singh Mewar said although more than 900,000 people visit the City Palace each year, Udaipur has huge untapped potential to build its standing as India's prime heritage city.
"As this book shows we are on a journey to transform the City Palace and position it as 'India's Louvre' celebrating iconic architecture, literature, music, arts, sculpture, paintings, education and spirituality," he said. "The potential is limitless. I have been building on the platforms created by my late father, Maharana Bhagwat Singh Ji since 1984 and this book illustrates our journey supported by the Getty Foundation and the Ministry of Culture, Government of India."
Dr Shikha Jain, who as well as leading the conservation masterplan wrote the new book, said it contains 165 photographs and 58 drawings and is an important resource for researchers, enthusiasts and travellers. (see notes to editors).
"The City Palace is an outstanding example of living cultural heritage that has survived in an unbroken line of custodianship from medieval kingship to modern democracy," she said. "Our publication traces the history of the palace through its art and architecture to arrive at a conservation model to preserve this magnificent structure for the future.
"We have worked with a wide range of people from historians, to archaeologists to landscape architects to preserve not only the fabric of the building but also the stories of local people by recording their oral histories. We have studied the evolution of the palace, its inner and outer chambers and expansions, which shows innovative adaptations of Mughal and British period to suit original Mewar Rajput architecture.
"So far around 25pc of our plan is complete on ground so we still have some way to go. But if you look at our approach to the new silver and sculpture exhibitions, for example, you can see how carefully we are presenting the collections to the public."
Getty Foundation director Dr Deborah Marrow, paid tribute to the conservation project and the importance of Mewar's deep heritage.
"To preserve this jewel in India's heritage crown for the future as well as manage the normal wear and tear of the site's many visitors, its stewards recognized the need for a complete conservation plan," she said, and added:
"The project developed by the MMCF aligned with the Getty Foundation's dedication has advanced the practice of conservation through careful research and planning. Now a decade later, we are tremendously pleased with the outcome of the project, and it is rewarding to see the fruit of many years of hard work captured in this handsomely designed publication."