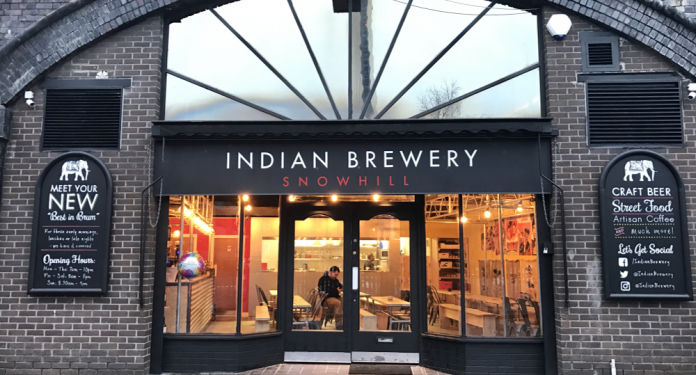 So many marvellous independents beer places have opened up over the last year in Birmingham, that now beer lovers are truly spoiled for choice. The newest addition to the jewellery quarter, the Indian Brewery, is already spicing things up in the area.
The Indian Brewery has resurrected the old coffee shop, under Snow Hill's railway arches, and turned it into a bar selling craft beer as well as artisan coffee. Obviously, being Indian you have to throw a bit of masala into the mix, so it doubles up as an Indian street food cafe.
As well as bacon naan on the breakfast menu, diners can enjoy pakora pops, Indian fish and chips and Chaat bombs!  The parantha with channa – is bound to be a hit with people seeking an authentic street style dish. We tried the mixed grill platter stacked with sheekh kebabs, lamb chops, fish pakoras and chicken wings. People were queuing to get in on a Thursday night at 6pm so it already looks like they are onto a winning formula.
The Physician
Looks like Edgbaston's cool new pub is just what the doctor ordered. The Physician, opened just before Christmas, just down the road from The Highfield and The Edgbaston Boutique Hotel on the Calthorpe Estate.
The building has been extensively refurbished making the most of the features of this beautiful building and keeping true to its history. It is quite traditional but with a contemporary twist, and now it has a large bar and two dining rooms, plus a new courtyard garden and orangery. The four working fireplaces dotted around the pub provide an instant feel-good factor, to re-create those festive cosy evenings during the cold winter months.
You'll find good cask beers, freshly cooked food, decent and affordable wine and a good shelf of malt whiskies throughout. They've raised the bar when it comes to their light bites – how does the Moroccan Spiced Chicken thighs with lemon cous cous, apricot, date and pomegranate salad (£9.95) sound?
Make sure you head there soon to give the menu your full diagnosis!
Tom's Kitchen
Renowned chef Tom Aikens, opened his eponymous restaurant Tom's Kitchen in The Mailbox just before New Year's Eve. Tom's Kitchen offers British favourites and comfort food classics in a relaxed and informal brasserie setting.
Open 7 days a week, popular dishes include starters of Spicy Crab Cake with tomato and cucumber salsa; Truffled Macaroni Cheese; and Steak tartare, main courses feature Fish & Chips with crushed peas, tartare sauce and lemon; Poached Monkfish with escabeche, saffron sauce, herb crust alongside dishes from the dedicated grill menu such as Tom's Kitchen Burger with smoked Applewood cheddar, bacon and gherkins; 650g Angus Cross Chateaubriand Steak; or Cornish Lemon Sole served with caper and parsley sauce.
—
Anita Champaneri
Managing Director
DELICIOUS PR
Level 2, Gatsby Court, 170 Holliday Street,
Birmingham B1 1TJ
0121 643 6985 | 07957 227 992
DELICIOUS PR : Shortlisted for the Excellence in Media Awards at the Birmingham Awards 2016
Follow us on Twitter @deliciouspr