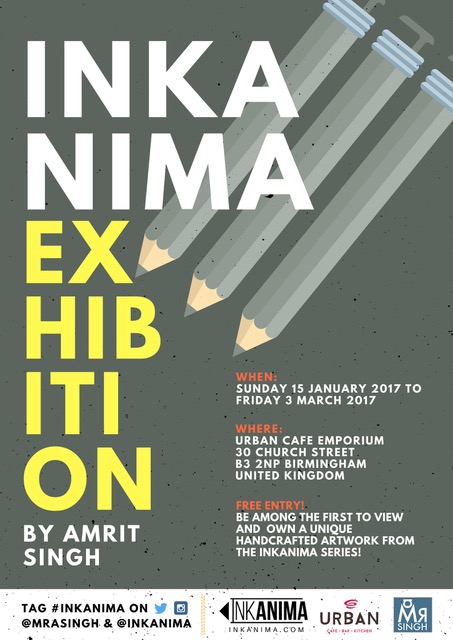 InkaNIMA is a collection of intricate ink art hand drawn by Amrit Singh, which are a salute to nature's beauty. As humans, we often forget that we are not in control of nature, but part of the ecosystem. Intricate patterns can be found in all of nature's creations: from animals, plants to microorganisms.
InkANIMA's tagline is 'The Creative Expression of The Unconscious Mind' and Amrit's style reflects that uniquely. He creates his intricate lines and mark making through the flow of the medium he is using, whether it's ink pens, a paint brush or a spray can.
His work takes time and has a lot of passion, patience and commitment behind it. Not only is his artwork an amazing story but it's also a part of MrASingh, his inspiration, process, creativity and courage.
Find out more at InkANIMA.com and Twitter: @InkANIMA
EXHIBITION DETAILS
The exhibition takes place at Urban Cafe Emporium, 30 Church St, Birmingham B3 2NP and will be on for 8 weeks from 16 January to 03 March 2017.
The private viewing will be on 28 January from 2pm-4pm.
PRIVATE VIEWING – YOU'RE INVITED!
Top creatives and art enthusiasts will attend a private viewing of the artwork and a chance to meet the artist, who will be on hand to answer any questions. Attendees will have the opportunity to purchase pieces from the collection as well as the InkANIMA colouring book. The artist will be displaying brand new artwork, previously not been on display and attendees will be able to take home a limited edition print.
ABOUT THE ARTIST
Amrit Singh (@MrASingh) is an award-winning creative designer, artist, international broadcaster and humanitarian from Birmingham.
He is one of the top creative broadcasters on Periscope and is known for live streaming his art, travels and humanitarian work.
His broadcasts have reached over 2.5 million viewers worldwide and are growing daily.
Amrit Singh's InkANIMA art has been seen by an audience of over 600,000 worldwide so far and has exhibited at the Meeting Of Styles event in San Francisco. For the first time, the award winning creative designer will be showcasing his InkANIMA collection in the UK.
Amrit has been featured multiple times by Periscope, Twitter,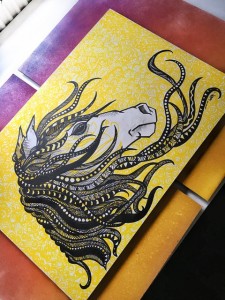 Mashable, Huffington Post, Adweek, International Business Times and Sky News.
Find out more: MrASingh.tv
Contact:  amrit@mrasingh.tv
Twitter, Instagram,Periscope & YouTube: @MrASingh