A senior Royal Navy official has renewed his pledge to encourage and attract more recruits from diverse communities.
Speaking at the annual national concert of the British Carnatic Choir (BCC), Commander Al Gibson said that low numbers of recruits from Black, Asian & Minority Ethnic (BAME) communities was "unacceptable".
The BCC is the brainchild of Dr Chithra Ramakrishnan, one of the country's finest Carnatic vocalists and Artistic Director of Shruthi UK, the Solihull-based South Asian arts and culture organisation.
It aims to complement former Prime Minister David Cameron's British Values in an attempt to encourage all citizens to respect each others' ways of life and to celebrate good work, through the sounds, words and pictures of the BCC.
Carnatic music is a system of classical music associated with the southern part of the Indian subcontinent.
Attended by representatives from public and private sector organisations, the milestone event, themed 'Journey of Carnatic Music', took place at Bournville Gardens retirement Village, located on Bristol Road South, Birmingham, on the site of the former Bournville College.
Guests included West Midlands' Deputy Lieutenant Simon Topman MBE, Her Majesty's former Lord Lieutenant of the West Midlands Paul Sabapathy CBE and Dr K Somasundara Rajah and his wife Jega Rajah from The Balaji Temple, one of Europe's largest Hindu temples. Also in attendance was Dr Ramakrishnan's mentor, Guru Neyveli Santhanagopalan, a highly acclaimed, word-class musician and musicologist.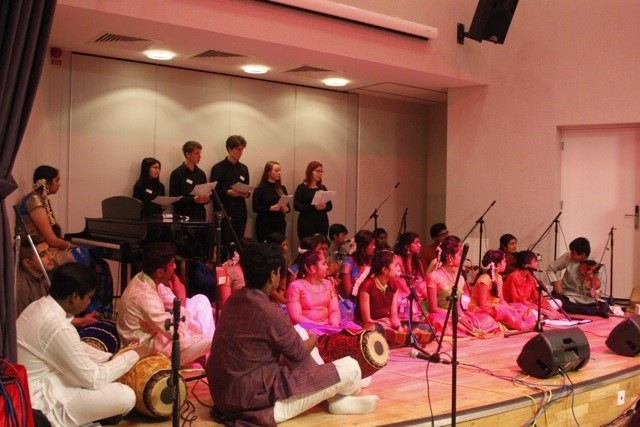 Addressing the audience, Dr Chithra Ramakrishnan, said:
"Music is a language that sees no boundaries. I feel truly blessed to hail from a family of musicians and the fact that I'm able to continue that tradition through my passion motivates me even more."
Dr Ramakrishnan paid tribute to her Late father Dr S Seetharaman who she said had been a pillar in her passion. This year she introduced seven awards, including one attributed to her Late father.
The other awards for 'Best' vocalist, performer, singer, strings, percussion and a BCC Patrons & Trustees award were presented to recipients by Commander Al Gibson and Paul Sabapathy.
Participants, of all ages, the youngest aged just 7, reflected the multicultural make-up of Great Britain and included students from Coventry and Birmingham City universities.
The BCC aims to create and explore choral singing in South Indian classical music in the UK. With a key focus on children and young adults with a passion to connect through music, the BCC aims to transcend this genre of music across the UK and beyond to diverse communities.
It aims to identify and recognise people, particularly children and youth, of all abilities and from all walks of life who share a common passion to create a British Carnatic Community, one which reflects the multicultural mosaic of Great Britain.