We sat down with Abid Iqbal, director of Sayarts.com, a company dedicated to the promotion of Sufi and Qawwali music in the UK. Abid gives his insight into the changing landscape of Asian music and how he got his company off the ground. Sayarts has multiple upcoming tours come 2017, including Faiz Ali Faiz, Professor Abdul Rauf Roofi, Asif Ali Khan Santoo Khan, Shahbaz Fayyaz Qawal, Imran Ali and Faryad Ali.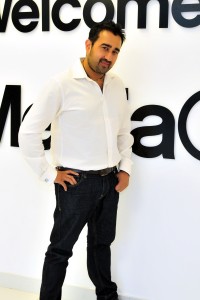 Tell me about Sayarts.com, what do they do?
Sayarts.com is an international promotions company initially set up in 2003 to promote Sufi music, mostly around Qawwali and nasheeds. However this year we branched out to comedy tour from Pakistan and from next year were aim to expand into other music genres as well and will move into artist management. Sayarts.com have registered offices at the CSN International Exhibition and Conference Centre, Birmingham which is a new concert venue. We also hold a Home Office License to bring international acts from anywhere in the world to the UK.
What's the story behind Sufi and Qawwali music?
Qawwali is a traditional type of music that came about 1400 years ago and originated in India to promote Islam. Sufi music originated from Persia and when Persian poets travelled around the world, they went to India and adapted qawwali to spread their poetry and praise God. The teachings in the lyrics encapsulated humanity and the poetry was deeper and more inspiring, that's when religion was spread by poetry.
Why did you decide to bring Qawwali to the UK?
About 15 years ago I decided I wanted to do something different from a conventional job. I wanted to leave my mark in the industry. Nusrat Fateh Ali Khan did great work but after he died, Qawwali also died down. I thought I could get involved in Qawwali and since then, I've introduced Rahat Fateh Ali Khan back in 2003 into the UK and many others qawwali artist to help revive qawwali.
How is Qawwali changing over time?
Good question. It's not changed but there's a lot of experimentation going on. Bally Sagoo remixed many qawaalis and introduced many youngsters to Nusrat Fateh Ali Khan, and now Rahat sings for mainstream movies and Bollywood and that created a new audience for Qawwali. In 2015, Faiz Ali Faiz sold out Barbican Centre with an 80% English audience. It's appreciated by mainstream audiences now and appreciated by many whether they understand it or not. It is recognised by world class 'world music' organisations such as WOMEX and WOMAD who often program qawwali acts, and is popular around the world.
So there's a growing market for Qawwali?
Definitely, it's hugely popular. There are 5 big Qawwals in Pakistan who travel to world music festivals around the word. The audiences that come to the concerts are diverse from Indian, Pakistan, Hindu, Sikh, Christians and more. Nusrat has given the genre the boost. I normally get a lot of bookings now for Indian and Pakistani weddings.
Do you think Asian culture is seeping out into the mainstream?
It seems to be making a transition but you never know exactly what's happening. I know if I take qawwali to mainstream venues or BBC Radio 3, I'll be more successful. Previously when I've approached Asian Radio or TV, they have no idea what qawwali is, which is an issue but we need to realise that qawwali is appreciated by mainstream. We need to appreciate other cultures and our own and not forget about it. Moving forwards it should be exciting times.
Did you always want to get into the qawwali music business?
My background is in IT. I worked for local authority for a good 13-14 years. However my heart was always in music. When other kids bought sweets, I was buying music cassettes. My late father was very strict, he wanted me to go to university and get a job, and avoid involvement with music as it wasn't a traditional job. But after my parents saw what it was all about and they saw that respect coming in and how much I enjoyed it, they said "good job."
Was it difficult to get Sayarts.com off the ground in the beginning?
Yes, I had to self-promote and go around and talk about qawwali and people weren't interested back then. It was difficult but I enjoyed the challenge. People said 'you're not going to be successful' and people were negative, but now I can say here I am after fifteen years, I'm touring, qawwali artists have become popular and  aim to move onto big things. I have always valued the support of my mentor and Ustaad, Birmingham based, Muhammad Ayyub, MBE, of Oriental Star Agencies, the first Asian record label boss in the UK who is credited with title "Godfather of South Asian Music".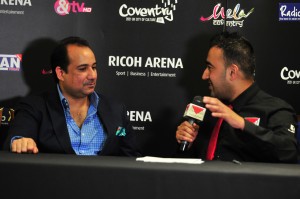 What made you first decide to get into qawwali promoting?

Growing up in Handsworth in Birmingham, it's very diverse in terms of culture and religion. So many artists from this area have made it in the industry, for example Sukshinder Shindha (Music Producer), Danny Choranji (DCS, Radio and TV personality), Raj Baddhan (Sabras Radio Station Manager), and Saj Sahota (Internal Music) all have lived on the same famous Antrobus Road I have lived on, I mean Handsworth has talent. That's how I got into it, I saw people working in Bhangra and Bollywood and I wanted to be in a market that was different. There's no competition in what I do but I've invested a lot of time, money and effort – without receiving funding.
Which artist has really inspired you?
Gurdas Maan is definitely a true artist. I haven't missed a single UK performance of his. His lyrics are so touching and powerful. Nusrat Fateh Ali Khan as well, his concert was the first one I ever attended in 1989. I remember being so mesmerised, completely fixated on the band. It's not just about their music, it's about the lyrics and personality shining through.
If you were to star in a movie, who would you like to star with?
On my second visit to India I met with the late Yash Johar, I would have loved to star in one of his movies. In terms of acting Naseeruddin Shah, Om Puri or Anupam Kher as I prefer art movies as opposed to commercial stars.
What are your thoughts on the Pakistani and India arts issue?
In terms of art, Pakistan and India working together is a big thing. The issue of Kashmir needs to be sorted and I hope one day it will be. There should be a flow of people going in and out. Next year we should be celebrating 70 years of independence for India and Pakistan from the British Raj, now there's fighting going on again. It's not good because the youth should be celebrating our success together. There should be more cross-cultural events going on, look at the event where Atif Aslam and Sonu Nigam are performing together, it's amazing.
Why do you think people put their politics onto art and music?
Art is a soft subject, art and music have fans all over the world so you can use it to get a political message across. Politicians talking and talking doesn't always work and that's why they use art but it's wrong to misuse that.
You recently won Committed to the Scene at the Pakistani Music and Media Awards 2016, how was that? 
It was quite humbling to be recognised and appreciated for my 15 plus years of promoting qawwali. I dedicated it to my late father who passed away this year.
What does Sayarts.com have planned for the future?
There are lots of tours coming up with multiple artists coming to the UK Pakistan's top naatkhwaans will be coming in December 2016, in February 2017, Faiz Ali Faiz qawwal will be returning for his second qawwali national UK tour in partnership with Muslim Charity. I have two tours in April first of all Professor Abdul Rauf Roofi with his his full musical duff team.  In late April Asif Ali Khan Santoo Khan who has worked with Bruce Springsteen and performed at the opening of the Lodnon Olympics will be coming to the UK too. https://www.facebook.com/sayarts.comuk. Other qawwals such as Shahbaz Fayyaz Qawal and Imran Ali and Faryad Ali (IAFA) Qawwal will also be touring late 2017 too.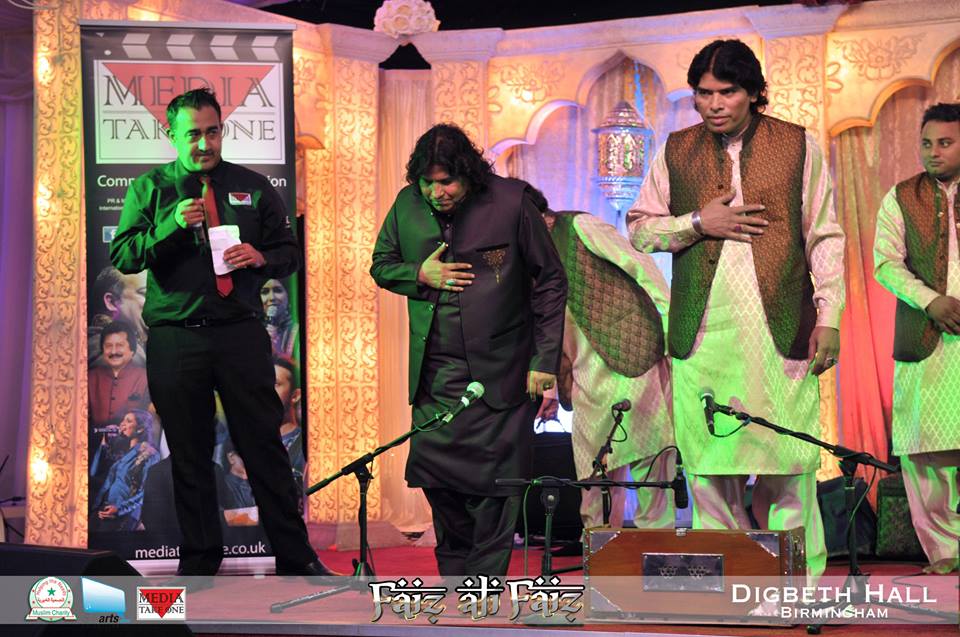 We aim to partner with AP Entertainment who do Fashion and Beauty Awards in Manchester. They brought over the likes of Rahim Shah, Sajjad Ali and Hadiqa Kiyani a decade ago. We've got 3 major music events coming up too. It's an interesting time for the Pakistani film industry too with Janaan and Om Puri going into both India and Pakistan. Pakistani film and Cinema used to be popular and is being revived again.
You have a second company Media Take One, What does this do and what do you hope to achieve from this?
Media Take One was set up in 2014 by me and my friend Brij Chanhcal to capture and promote concerts through social media platforms. Brij Chanchal is an experienced videographer and photographer serving 35 years in the industry. As a team we interview some of the biggest names and capture concerts through photographs and video. Through our supporters, Rock on Music Ltd, we have worked with some of the Biggest Bollywood artists. www.Facebook.com/mediatakeone. Ideally I would like to be a TV Anchor as I love interviewing as well as a successful promoter.