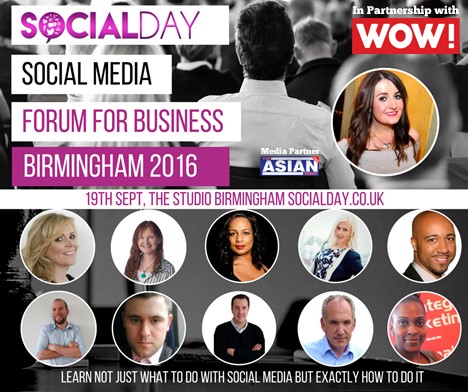 Social Day is a one day forum bringing together a diverse group of attendees to learn the latest techniques in social media marketing as well as hearing from inspirational speakers and case studies. Not only will you learn what to do but exactly how to do it. Social Day is the UK's Best Social Media Forum!
Following the huge success of the London and Kent forum we are now pleased to bring you Social Day Birmingham on the 19th September 2016!
Our speakers aren't just industry faces but superstars who can really offer a true perspective of social media for business because they'e already got the T-Shirt!
Click here to get your ticket and don't forget to use our 'wow' promotional code to get £15 off!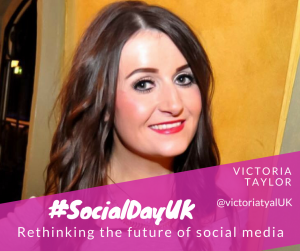 Who Should Attend?
SMEs
Owner/managers
Freelancers
Marketers looking to integrate social media into strategy
Micro Business
PR companies
Start ups
Social Media Managers
People looking to start a business
Anyone looking to understand exactly how to use social media and what can be done with social media.
A conference with a difference!
We aren't just another social media conference for marketing experts. At Social Day we understand that there are so many people just getting started. They need the skills and tools that enable them to do a great job of social media.
In a collaborative and jargon free environment Social Day offers a new forum type environment which actually includes practical workshops and plenty of inspiration from people who have actually been there and done it!
Plus we have a strict jargon free policy! This day is about helping YOU! We don't want to scare you off social at the first hurdle!
You'll leave the event feeling, inspired, informed and equipt with the tools you need to actually get started.
Tickets include catering and lunch for a full day including:
Unlimited tea and coffee
Pastries, Muffins and Muesli on arrival
Bags of Fruit and nuts mid-morning
Freshly baked Cake and Tea time Biscuits in the afternoon
Whole Seasonal fruit in your designated refreshment area
2 Course Hot & Cold standing buffet lunch with Juice
Filtered Bottled water – still and sparkling
Participate in Expert Panel Debate
Your needs for the day are all looked after and there will be ample networking with up to 200 other businesses.