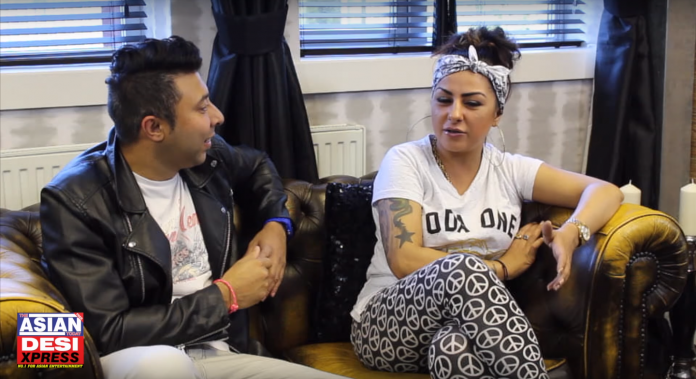 VIDEO BELOW!
Surj: You're looking refreshed. I feel like you're gonna burst into raps.
HK: Everyone tells me I haven't changed in the last 20 years, that I look the same.
Surj: That's as long as you've been in the industry, wow.
HK: Minus the botox! Yet!
S: it's crazy to think you've been in the industry that long. You've persevered to well done for that as a South Punjabi rapper. There's no one else on the scene right now so to me you're the queen of Punjabi rap.
HK: Thank you, that's so sweet.
S: Let's talk about your new track. I like the video, it's you. You're in your element, sitting on your throne. Is it about you or is it about women's empowerment?
HK: It's a little bit of everything. I actually wrote the song a long time ago, about 4.5 years ago. I didn't  want to  release it at the time because we had the Delhi rape  case and as something  so sad  had happened, I didn't want to go and release a track, taking  advantage of the situation. I left it in my hard drive, put it away. A couple of friends heard it last year. The funniest thing was I wanted to start doing real hip hop and my mom called me and said "it's about time to do stuff that makes you happy, you should show them your real skills and authentic hip hop."  Also, I was tired of the things going on in India, I mean it's a universal problem, but the way women are being treated in India like being judged on what they wear or getting paid less for doing the same job as a man.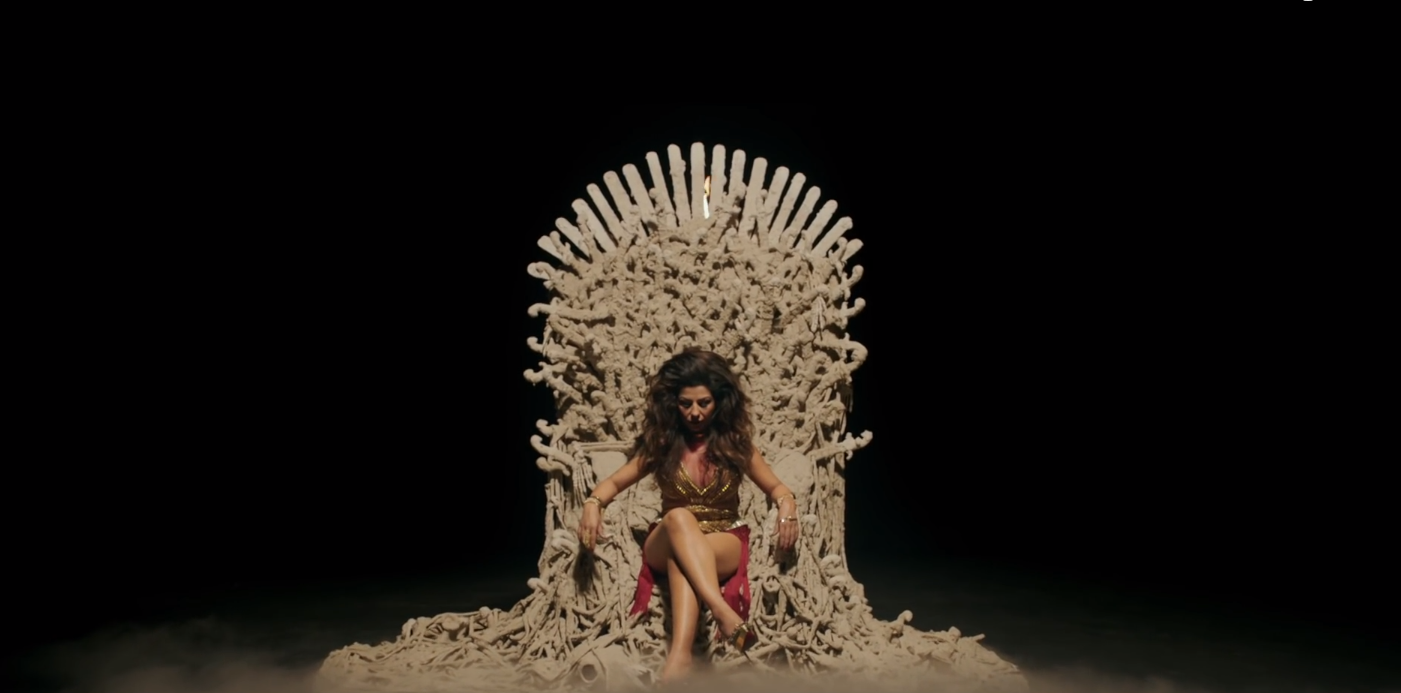 We just need to treat women equally and I'm just trying to do it my way, doing my bit. With Shirne, it's not a track that will necessarily make money, it's not a track for profit. When I wanted to release it, I went to a lawyer and they didn't want to back it up, it's not a commercial song, it's not gonna make money according to them. But it's a real personal project, I had to release it. My mom said you better do 'real hip hop now!' She pushes me a lot, she said the main thing was we're proud of me already and I'm already going to go down in history as the first Indian female rapper so that makes me happy.
S: When I got the call that Hard Kore was in Birmingham and do you want to interview her, I was like absolutely! It's not common I get to interview many female singers because it's all bloke and blokes and blokes.
HK: Yes, it's a very male dominated industry but I also feel that you've got to be seriously, stupidly strong to do this.
S: That's my next question, how have you held it down in the industry for the past twenty one years?
HK: When I was in the UK about 2003, I met a few female MCs who wanted to do something, either they were Asian or half Asian and I said "cool, I'll help you out." And then some people, a couple female artists who recorded and got a call on the day of the performance like "I can't do this anymore". Maybe because their boyfriends didn't want them to or using excuses like that. It's not a joke, they're not artists. I would say when you get into this kind of thing, you have to realise you're about to take a different path in life. It's going to come with negatives as well as positives, you're gonna get the fame and you're gonna be happy if you're successful first of all. Secondly, you've got the issue of how you won't be able to have a normal lifestyle, especially if you're a girl.
S: You have another track, Aise Karte Hai Party. What a track, I love the starting
K: I didn't really want to do a party track. This year I was like I want to come back now, I've had my two year break, I've chilled out with the family. Don't forget I've been working since the age of 13 so it's been non-stop working, working, working. In the past two years, I took time out to write, that's the most important thing. Trying to make it as a music director in movies. I've had a few songs out, the last one was in "Aashiq Mizaaj" in The Shaukeens with Akshay Kumar, Annu Kapoor, Anupam Kher. That was the last release and I'm really trying to make it, so getting bank ready and getting loads of tracks ready.  Also things like spending time with the family and playing with my brother's kids.
S: I felt a bit of Mumbai then 'family'
HK: 'Totally, you have to chill out! What is wrong with you, yaar?' So yeah, I learned to enjoy the little things in life like just chilling out watching a movie because I'd been constantly working, working, working, so that was important. And then Aise Karte Hai Party happened because at the time I signed a deal with the label, they wanted me to do a party track but I didn't want to do another party track but here is something different which I have. So I called up my celebrity friends like "come and be in my music video!" And they were like "yeah, we're there!" So Manish Paul, Saroj Khan, the TVF Pitchers guys, Rhaghav and Cyrus Broacha.
S: I'm going to move into my rapid fire round where I ask all of my guests random questions and they've got to give me the first answer that comes to their minds, so: your worst moment as a singer.
HK: Probably when you need to go to the toilet or something, I don't really have any other worse moment. Even if I slip, I make up for it and style it out so nobody knows.
S: Name a singer you can't stand.
HK: Name a singer I can't stand…who's irritating…somebody who can't really sing. I hate that cheerleader track "I found myself a cheerleader." [Omi – Cheerleader] Like really? Why, why? He was expressing his feelings about a cheerleader.
S: What would you do if your voice changed to the following, you wake up one morning and your voice had changed to somebody else.  Number 1: Daler Mehndi
HK: He's got an amazing voice anyway so I would be like the don!
S: Nicki Minaj
HK: I'd kill myself. Because I don't wanna sound like [imitating] 'this and that, ya get me!'
S: Kishore Kumar:
HK:  I would love that, I wouldn't change my voice if I was Kishore Kumar. [sings] Yodele-yodele-yodele-yahoo! He's too good, I love Kishore
S: Name three words that describe you. How would you describe yourself in three words?
HK: Encouraging. Strong, because I don't quit. Too loud, I guess. But we like being loud. Fun girls are loud!
S: What would you do if Hrithik Roshan proposed to you?
HK: I'd make him my brother and tie rakhi on him.
S: Really?!
HK: I don't like girly looking boys!
S: She'd turn him into her brother!
HK: Well he can give me a bit of high five because he's got six fingers.
[laughter]
S: I knew I was going to have fun on this interview. Alright, a nice question. Your best career moment to date.
SH: Releasing Shirne. It's been the best move I've made for myself, for music, for girls, for hip hop.
S: Alright, brilliant stuff. Guys, Hard Kaur is in the studios, check out her latest song called Shirne, it's out now.
HK: Please like and share and subscribe to the channel!
Absolutely. Guys, there's lots more to come from Hard Kaur in the future. She's released her own record label. Watch this space, Hard Kaur, Surj Kumar, keep watching!
For the full video, check out the video below!